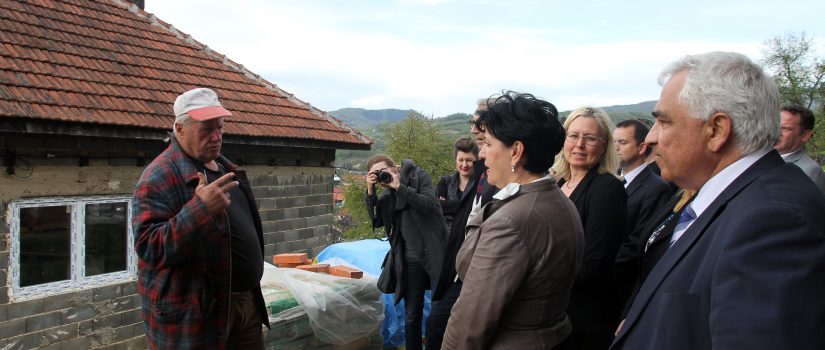 RHP stakeholders visit beneficiaries and construction site in Zenica 

Today, the 20th RHP Regional Coordination Forum took place in Sarajevo. The meeting was hosted by the Ministry of Human Rights and Refugees of Bosnia and Herzegovina. Participants to the Forum included representatives of the four Partner Countries, Donors, CEB, UNHCR and OSCE.

The meeting was opened by Minister of Human Rights and Refugees Semiha Borovac who expressed her satisfaction with the current pace of RHP implementation. She underlined RHP's important human dimension and its role as a facilitator to the Partner Countries' EU integration.

Ms Anne-Christine Eriksson, UNHCR Regional Representative for South-Eastern Europe, reminded that the RHP is about providing holistic solutions, not just houses. She also stated that the RHP stakeholders can count on UNHCR's continued support also during Phase 2.

The meeting focused on taking stock of the latest progress: close to 1 100 housing units have been delivered to date and over 3 000 vulnerably families will be gaining access to decent housing in 2017. In Bosnia and Herzegovina alone, close to 1 000 new RHP housing units should be completed in 2017.

The participants to the meeting agreed that while the primary objective of the RHP remains the delivery of keys, the RHP is also a programme that seeks to provide sustainable solutions in terms of infrastructure, economic, social and cultural aspects. The Partner Countries presented the steps taken until now and future plans necessary to secure the integration and self-sufficiency of beneficiaries.

Following the meeting, a joint site visit to Zenica was organised where the construction works on 62 apartments were launched last November, with planned completion in early 2018.  The participants also visited family Mekic in Busovaca, who will receive turnkey reconstruction assistance to reconstruct their badly damaged home. In addition, Catholic Relief Services has provided the family with support for income generating activities.