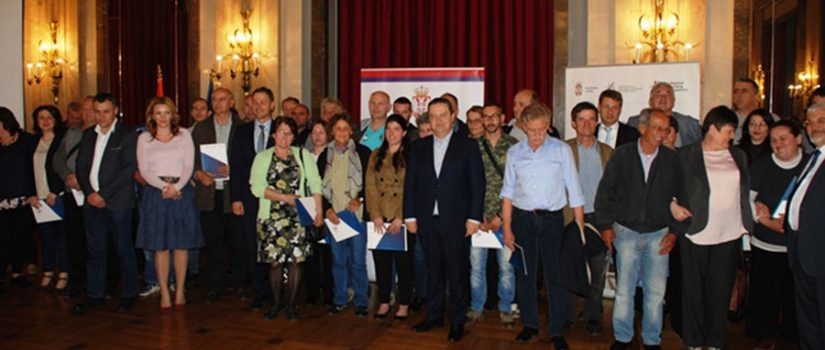 On 29 March, in the Belgrade City Assembly, 49 refugee families from Bosnia and Herzegovina and Croatia were awarded contracts for the delivery of prefabricated houses on the territory of the City of Belgrade.

The contracts were handed over by the First Deputy Prime Minister Ivica Dacic and the Mayor of Belgrade Sinisa Mali. The 49 housing solutions are part of the SRB3 sub-project, which is implemented solely on the territory of City of Belgrade and amounts in total to EUR 13 million.

The project implementation is expected to start immediately after contract signature so as to ensure a quick installation and delivery to the beneficiary families.

Ivica Dacic, First Deputy Prime Minister, Foreign Minister and President of the Commission for Coordination of Permanent Refugee Integration, stressed that the RHP is implemented with Donor funds. He also reminded that, under the same SRB3 housing sub-project, an additional 235 apartments will be delivered to their beneficiaries in Ovca before end-2017.

"I am particularly pleased that the beneficiary families will receive a home constructed on their own land and exactly where they chose to live," said Mr Dacic.

Vladimir Cucic, Commissioner for Refugees and Migration, stated: "We are on our way to reach the goal of the RHP, when the most vulnerable refugee families will receive a roof above their heads. I want to thank all the stakeholders of the Programme, and especially the beneficiaries for their understanding."

To date, over 700 families in Serbia have received housing solutions thanks to the RHP. The first 63 pre-fabricated houses were completed in 2016.