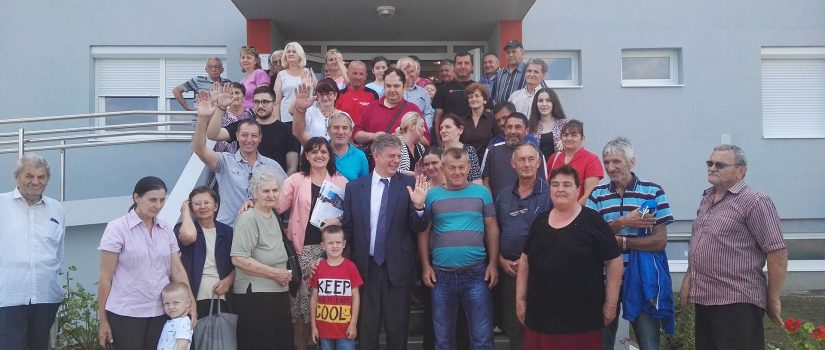 On 24 July 2018, Ambassador Lars-Gunnar Wigemark, Head of the EU Delegation to Bosnia and Herzegovina and European Union's Special Representative in Bosnia and Herzegovina, visited the RHP beneficiary families in a newly constructed building in Prijedor. On this occasion, a small reception was organised by the families who have just recently moved into their new homes.

"First of all, I would like to say that it is great to be here and see the concrete results produced by the Regional Housing Programme in the form of a building with 50 apartments and about 200 people who live here", said Ambassador Wigemark.

"This is what it is all about: seeing concrete results of the support we provide as the European Union, together with many others. This is also a good example of how various levels of authorities can work together, amongst which primarily the municipality, with the impressive personnel of the Prijedor city administration which is contributing to the implementation of this project. Let us also not forget the contractor that constructed this building in 15 months", added Ambassador Wigemark.

He also reminded that on this project, the EU Delegation collaborated with the entity ministries as well as the state Ministry for Human Rights and Refugees of BiH. "Everyone works together, hence the result is clear. After more than 20 years, proper roofs over heads are finally provided for these people, including children, the elderly and those who need it the most", noted Wigemark.

He said that the EU plans to continue working on similar projects. One of them is another building with 32 apartments which will be constructed in Prijedor. Furthermore, a similar building in Zenica is soon to be inaugurated. The RHP is implemented throughout Bosnia and Herzegovina, which constitutes a very concrete manner for the European Union to express solidarity with its people, according to Ambassador Wigemark.

"The Regional Housing Programme contributes to building peace and coexistence in the region, especially on the ground level, both across various parts of BiH such as the entities of the Republika Srpska and the Federation of BiH, as well as in Serbia, Croatia and Montenegro. People here are bound by so many common things, rather than separated by differences. When I ask people, I am told that they have no other interest than to live together in peace. I have travelled a lot around this country and seen that people are interested in having a place to live, work, receive education, adequate healthcare, security and safety just like all other EU residents".

"We are increasingly working on the development of local communities and I believe we should bring together our programmes and the Regional Housing Programme beneficiaries, returnees and refugees, in order to craft a solution for their sustainable return", concluded Ambassador Wigemark.