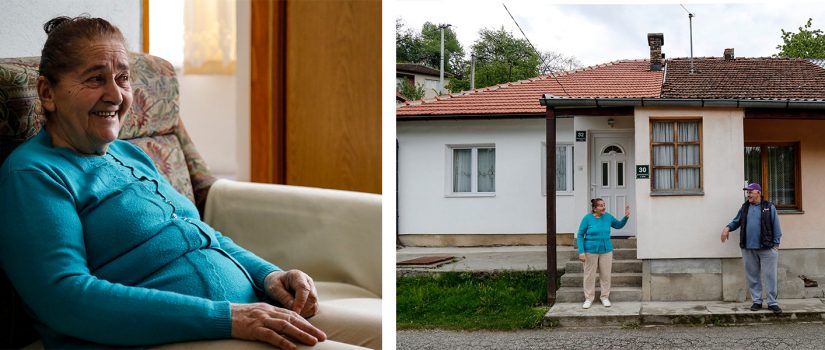 29 May, 2019 – Janja Pirel was born in Hadžići, near Sarajevo, in 1947. When she was 18 years old, she married and had two children. She lived in her house, with her husband and their two children, between 1973 and 1992. In order to escape the war in Sarajevo, Janja and her family fled to Croatia, where they lived until eight years ago. When she decided to move back to Sarajevo, where she "was born, raised her children and had neighbours",  she applied for the house reconstruction assistance under the Regional Housing Programme. In the meantime, her sons left home to start their lives on their own – one in Austria and the other one in Croatia.

Upon returning to Hadžići, for several months, she slept in the house with no doors or windows. After receiving assistance from the RHP and the subsequent finalisation of the construction works, Janja's home looked completely different: with new flooring, walls, ceiling, roof, gutters, doors, bathroom and entrance hall.

The house next door is still home to Janja's neighbor, Hasan Drulic, and his wife Rahima, just as it was before the war, which means a lot to Janja. "I spent fifty years here having the same neighbours. Actually, we moved into our homes on the same day. We never had a fallout, although we have known each other for fifty years. Not only that – we celebrate our holidays together – I celebrate Bairam with them and they celebrate Christmas with me", Janja says, with a smile. While her house was vacant, Hasan would check on it and, on one occasion, he covered the doors and windows with plastic sheeting, which was still there when Janja returned.

Janja now lives in Sarajevo off her late husband's pension while also leading a local women's group which organizes weekly events and field trips to women from the neighbourhood.

"My husband was Catholic and I am Orthodox. We were both born in Bosnia. There are mixed marriages in our entire family and none of them have broken up", says Janja. "The people should continue to spend time together, live in harmony, look ahead and forget about what happened in the past", concludes Janja.