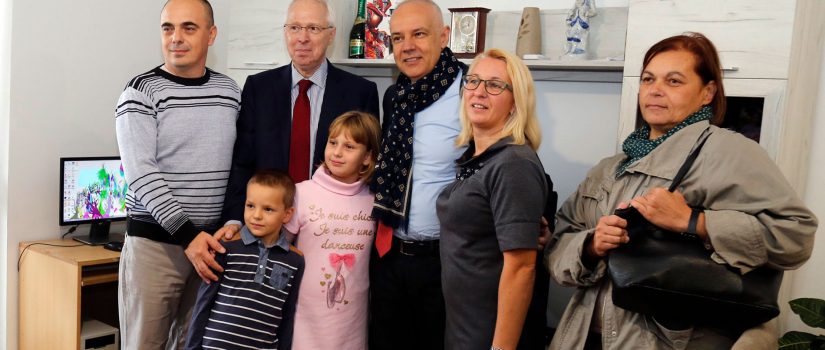 OVCA, BELGRADE – Six months after the delivery of a 235-apartment building to its RHP beneficiaries, CEB Governor Wenzel and Mayor of the City of Belgrade Radojicic paid a visit to Ovca's new residents.

Yesterday, within the framework of his visit to Serbia, Governor Wenzel met the Mayor of the City of Belgrade Mr. Radojicic. Together they visited the residential block of Ovca. Co-financed by the Regional Housing Programme Fund and the national contribution of the Republic of Serbia, Ovca is currently the flagship project of the RHP. It houses 235 vulnerable refugee families. The construction works of the buildings started in August 2016 and were completed at end-2017, with a total cost of EUR 9 million.

The City of Belgrade is a key partner in the RHP. Some of the largest RHP projects will be implemented in its wider territory. Once completed in 2019, the Kamendin residential block will provide housing to 270 families. RHP financed buildings are part of a larger investment in social housing/urban development by the City of Belgrade. Some of these investments foresee the wider development of the location with vital social amenities such as childcare facilities, a primary school and commercial areas.

Governor Wenzel said: "It is an honour to be welcomed into the home of the Bunijevac family today. It is a humbling as well as joyful experience at the same time. Seeing this large project finally being populated gives to all of us further motivation to achieve more; accommodate as many people in need as possible in the life time of our Regional Housing Programme. The City's contribution has been manifold but most importantly we are grateful to the City of Belgrade for providing now and in the future all the necessary for the integration of RHP beneficiaries in the structures of its community."

Mr Radojicic said: "A roof over one's head is a basic human right. It is therefore an extraordinary honour for me today to find myself in the warm home of the Bunijevac family, who is among the first RHP beneficiary families to have received an apartment in Ovca".