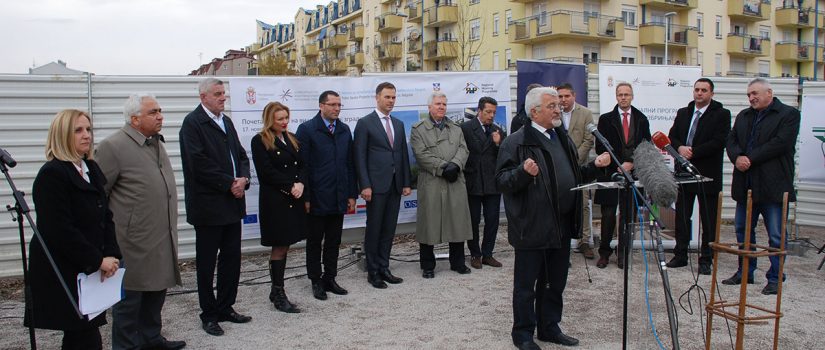 Kamendin (Belgrade), 17 November 2017 – The Serbian Commissariat for Refugees and Migration hosted today an event to lay the foundation stone for the construction of 270 apartments in Kamendin, in the municipality of Belgrade.

This project is part of the sub-project SRB5, approved by the RHP Fund Assembly of Donors in November 2014 which aims at providing housing solutions to 1 703 vulnerable RHP beneficiary families in Serbia. With a total estimated budget of EUR 46.8 million – of which EUR 10.4 million is to be covered by the national contribution – up to 1 262 new apartments should be constructed in 27 municipalities throughout Serbia. In addition, the sub-project covers the delivery of 200 building material packages and the purchase of 241 village houses.

The works in Kamendin are scheduled to be completed in early 2019 when the beneficiaries – refugees from Croatia and Bosnia and Herzegovina – will move in. The beneficiary selection for the apartments is in progress, with close to 2 000 applications received.

"The Regional Housing Programme should be implemented in its entirety, because, after many years, it finally resolves the basic existential needs of the most vulnerable part of the refugee population living in Serbia and, at the same time, promotes the relations and contributes to the stability in the region," said Veljko Odalovic, Secretary General of the Ministry of Foreign Affairs of the Government of the Republic of Serbia.

Yngve Engström, Head of Cooperation at the EU Delegation to the Republic of Serbia, highlighted that the EU is the biggest donor to the Programme having pledged EUR 232 million out of a total of EUR 280 million. He stressed that "together with all our Programme partners, including the Republic of Serbia, we are making an immediate, direct and positive impact on those who have experienced a lot of hardship".

H.E. Kyle R. Scott, Ambassador, Embassy of the USA to Serbia, congratulated the Serbian government and all RHP partners on progress.  He stressed that the RHP provides critical assistance to some of the most vulnerable people in Serbia, and is a unique model for creating lasting partnerships and promoting reconciliation within Serbia and throughout the region.

"Each day, the number of allocated housing solutions increases, as keys for new prefabricated houses or  packages of building materials are delivered, or beneficiaries are buying rural houses with a garden,etc. As far as new apartments are concerned, the construction of 235 housing units in Ovca is now almost completed", said the Commissioner for Refugees Vladimir Cucić.

The Mayor of Belgrade Sinisa Mali underlined that, after more than two decades of waiting, over 800 people – or 270 families – will be provided with a home of their own in Kamendin.

Participants were also addressed by H.E. Andrea Orizio, Ambassador, Head of the OSCE Mission to Serbia, Hans F. Schodder, Representative of UNHCR Serbia, and Vassilis Petrides, RHP Programme Manager at the Council of Europe Development Bank.