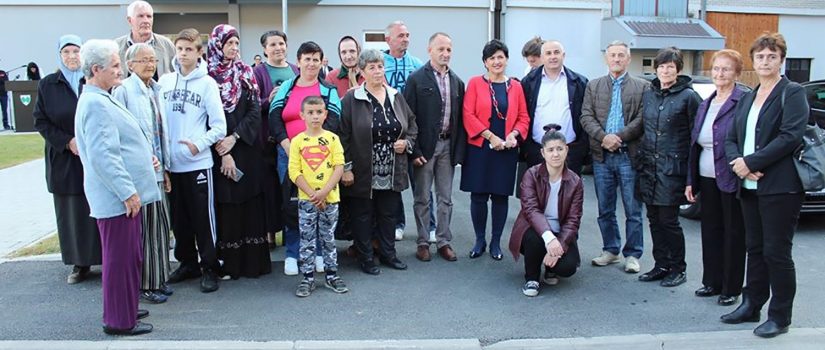 Olovo, Bosnia and Herzegovina, 4 October 2018 – Today, 16 vulnerable families of returnees and displaced persons received keys to their new homes in a multi-apartment building in Olovo, in the Federation of Bosnia and Herzegovina.

One of the beneficiaries, Berzad Hajdari, made a statement on behalf of all the families that received new homes today: "As a beneficiary of this beautiful building, I want to wish to my new neighbors a lot of happiness and good health. I also wish that we have more and more such beautiful events. I would like to thank you all who supported us and have no more words to describe how grateful I am."

The event was opened by Minister for Human Rights and Refugees of Bosnia and Herzegovina Semiha Borovac, who addressed the beneficiaries: "Thanks to the RHP Donors, you can now at last leave the difficult days behind and enjoy your new homes". Minister Borovac also underlined that Bosnia and Herzegovina will provide socio-economic support to RHP beneficiaries: "Now, our goal is to make this project sustainable".

Head of Cooperation of the Delegation of the European Union in Bosnia and Herzegovina Richard Masa, stressed that the European Union will continue its assistance to the Regional Housing Programme to help individuals and families change their lives for the better. "Thanks to the mutual efforts of our partners at all levels, we have managed to ensure durable housing solutions for the most vulnerable. I also have to highlight the strong regional importance and dimension of this programme, which does not only provide durable housing to the most vulnerable families, but also contributes to building peace and coexistence in the region," said Masa.

Anne-Christine Eriksson, UNHCR Regional Representative for Southeastern Europe, said: "For the Regional Housing Programme, which is entering its final phase, to be ultimately recognized as a complete success in providing solutions to the most vulnerable displaced people still in the region, it is crucial to uphold the required standards for selecting the deserving beneficiaries, but also to further ensure that the offered solutions are truly comprehensive, enabling people to rebuild their lives in more dignified and sustainable conditions". She added that UNHCR and OSCE will continue to stand ready to assist the RHP partner countries in these important tasks.