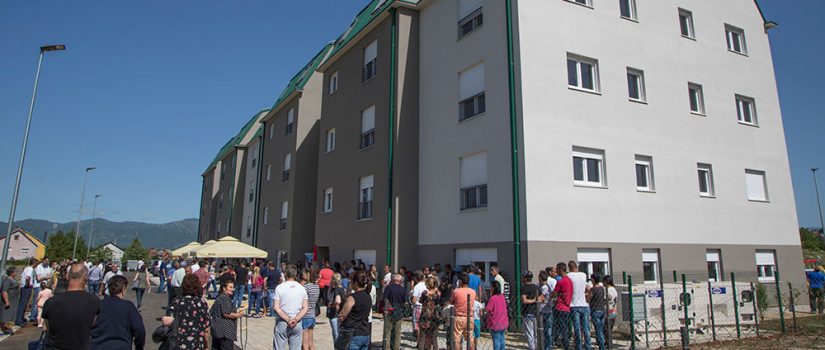 On 20 June 2016, the Ministry of Labour and Social Welfare of Montenegro hosted two ceremonies to mark two important milestones in RHP implementation: completion of construction of 62 apartments in Niksic, and start of construction of a home for the elderly in Pljevlja.

The inauguration of the new apartment building in Niksic – which was completed earlier this month – gathered together today both RHP stakeholders and RHP beneficiaries. The Minister of Labour and Social Welfare Mr Boris Maric, together with the Mayor of Niksic Mr Veselin Grbovic, handed over the keys to beneficiary families who will be able to move in to their new homes immediately. These are the first housing solutions delivered to RHP beneficiaries in Montenegro, after one year of construction works with a total estimated cost of EUR 2.6 million.

Minister Boris Maric said: "I would like to express my gratitude to all our partners from the international community, as well as local and national authorities for their joint efforts and commitment, which brought us here today. This project is a good example of social inclusion and economic sustainability, providing housing solutions and a new life to the most vulnerable categories of IDPs who decided to stay in Montenegro and become an equal part of our society."
Mayor of Niksic, Veselin Grbovic stated: "The Municipality participated in this project by providing the land plot of 5 000 m2 as well as the complete infrastructure and the access road, in the overall value of over EUR 700 000. We have received significant support from the previous Minister Kovacevic, who was dedicated to implementing the project, as well as from the new Minister, Mr Maric, who has been appointed recently."

H.E. Ambassador Janina Hrebickova, Head of OSCE Mission to Montenegro, said: "The event today is a proof that RHP is fulfilling its main goal, which is providing housing solutions for people who were waiting for over 20 years for their homes. Today is an important day for all of you receiving new homes, but also for your children and their future. All this wouldn't be possible without great dedication of our international and local partners involved in the implementation of this programme, proving that only cooperation and joint efforts can bring results like this."

Mustafa Server Caylan, UNHCR Representative in Montenegro, stated: "I am especially proud that this event today is coinciding with the International Refugee Day, giving a sign of hope to over 65 million refugees around the globe. We are not only providing housing, but also sustainable social and economic inclusion, as both the national Government and local community will continue to provide employment, social security and education to the most vulnerable categories of people who want to integrate into our society."

The second event that marked the day was the start of construction works in Pljevlja on the home for 68 elderly and handicapped refugees/IDPs/holders of status of foreigners with permanent or temporary residence in Montenegro. The home will also provide daily care to additional 30 persons. The total estimated cost of this project is EUR 2.2 million, out of which EUR 1.9 million, or 86%, is covered from the RHP Fund resources.

The Mayor of Pljevlja, Mirko Djacic, underlined the importance of this project in the field of social policy. The Municipality of Pljevlja contributes to the project by providing a land plot of 2 800 m2 in a good location, near the city park, for the 68 beneficiaries whose final selection will take place 6 months before the works are completed.