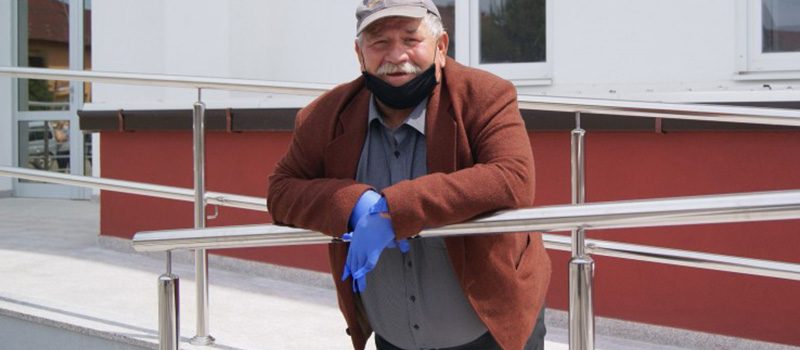 Gradiška, Bosnia and Herzegovina, 13 May 2020 – Only a few days after 30 refugee and displaced families received new Regional Housing Programme-financed homes in Bijeljina, Bosnia and Herzegovina (BiH), a further 32 beneficiary families celebrated the receipt of keys to their new RHP apartments in Bosanska Gradiška, BiH, today. The new residential building was constructed under the RHP sub-project BiH3, at a total cost of approximately EUR 620 000.

The small ceremony was hosted by Marko Aćić, Acting Director of the Republic Secretariat for Displaced Persons and Migration, and Zoran Adžić, the Mayor of Gradiška. Mayor Adžić reported that land, infrastructure connections and building permits had been provided by the City of Gradiška.

Although the Ministry for Human Rights and Refugees – the RHP Lead Institution in BiH – was unable to attend the event due to COVID-19 restrictions, Nina Mišković, National Coordinator for the RHP in BiH, expressed satisfaction that RHP implementation continued to produce visible results even during the pandemic. "A total of 62 families have moved into three buildings in BiH this week – 30 in Bijeljina on Monday and 32 in Gradiška today. All of this would not be possible without the financial support of Donors, primarily the EU and other Donor countries, and we thank them once again for their significant contribution. On behalf of the Lead Institution, I congratulate the new tenants and wish them a happy new beginning in their lives", she said.

One of the beneficiaries, Mile Vujašinović, a refugee from Croatia, had changed temporary accomodation six times since leaving  his hometown of Pakrac almost three decades ago. "I still can't believe that we have an apartment!", he said. "My wife and daughter are also overjoyed and astonished. We are lucky to be able to live with decent people in this beautiful building." Another beneficiary, Aleksandra Donski, agreed, reporting that she was very happy with the quality of the apartment and the building as a whole.