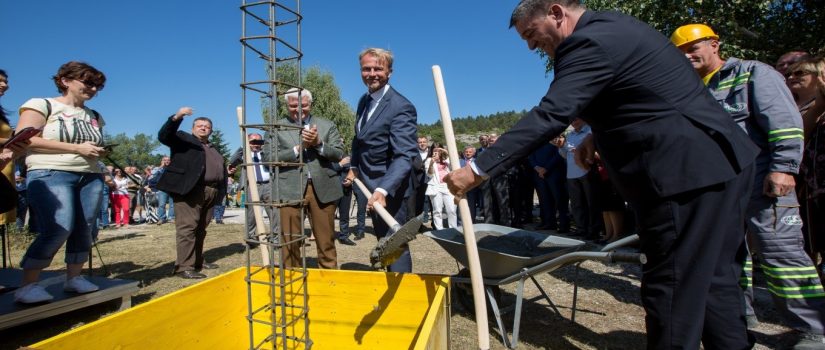 Niksic, Montenegro, 16 September 2019 –A groundbreaking ceremony took place in Niksic, Montenegro, today, to mark the launch of the construction of a new home for elderly persons and adults with disabilities. The project, with a total value of approximately EUR 4.8 million, of which 70% is financed by the RHP Fund, is scheduled to open its doors to 104 residents in 2021.

The new facilities – which will be reconstructed from existing buildings, and specifically designed for persons with reduced mobility – will consist of 52 rooms, medical facilities and other facilities necessary for adequate care of beneficiaries, such as dining areas, activity rooms and a library.

Expressing satisfaction with the start of the construction, Prime Minister of Montenegro, Duško Marković stated: "Through this project, we have already addressed many important issues concerning the housing of vulnerable categories, including pensioners and refugees, as well as socially vulnerable people. In 2018, we closed collective centres in Berane by constructing 94 housing units, and at the same time we closed the largest collective centre for refugees in Konik, where we built 171 residential units, and in 2016 in Nikšić, we built a 62-unit apartment building. This testifies to the fact that the Government, the State and its partners and donors are very responsible towards the persons who are in social and housing need – pensioners, refugees and socially disadvantaged citizens".

H.E. Aivo Orav, EU Ambassador and Head of the EU Delegation to Montenegro, remarked that it was a "great pleasure" to witness the occasion, adding "This is one of the biggest RHP projects in Montenegro, and a great example of how the EU contributions change the lives of people, and also influence reconciliation and good neighbourly cooperation in the region."

Veselin Golubovic, Mayor of Niksic, thanked the donors for their support, and underlined the importance of the project for the local community, stating: "Not only will we provide accommodation and health care for 104 elderly and disabled persons, but we will also create conditions for engagement of a number of professional staff from the Niksic municipality." Mayor Golubovic added that Niksic was also the location of the first RHP building to be constructed in Montenegro, in 2016.

RHP info desk:  Secretariat of the Regional Housing Programme ceb-rhp@coebank.org.