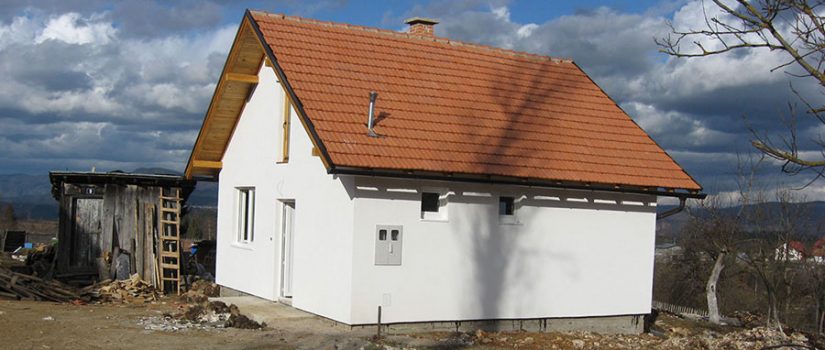 The Partner Countries are in the middle of a busy construction season in the summer and fall of 2016: more than 1 800 beneficiary families have been selected, numerous tenders have been launched or completed and construction works are now ongoing in all four Partner Countries.

In the first five months of 2016, the pace of RHP implementation accelerated considerably, capitalising on the valuable preparatory activities that took place at the Programme outset. This is indeed an encouraging period for the RHP, as the current activities will translate into newly constructed homes for thousands of vulnerable beneficiaries. With the current pace of implementation, the number of housing units that will be delivered in 2016 is expected to triple compared to 2015.

In Bosnia and Herzegovina, beneficiary selection is well advanced for all sub-projects and so is the delivery of building material packages and reconstruction of houses. 20 housing units have already been provided and close to 1 000 beneficiaries are expected to move into their repaired or reconstructed houses by late 2016. On the occasion of the upcoming RHP Steering Committee meeting which will be held on 28 June 2016 in Sarajevo, the RHP Donors and other stakeholders will have the chance to visit some of the RHP beneficiaries in Novo Gorazde.





In Croatia, after the successful completion of the project in Korenica where an apartment building for 29 vulnerable families was completed in autumn 2015, three more construction sites are now active: in Glina (reconstruction of a home for 75 elderly and disabled persons), in Knin (construction of two residential buildings with 40 apartments) and in Benkovac (construction of an apartment building for 21 families). Furthermore, Croatia has already purchased 58 apartments under the sub-project targeting the purchase of flats for 101 beneficiary households. As of today, 87 housing units have been provided to beneficiaries in Croatia, and another 50 are expected to be completed by the end of the year.




Montenegro is moving forward with RHP construction projects in three main towns: Podgorica, Niksic and Pljevlja. In Niksic, the construction of two apartment buildings to accommodate 62 vulnerable families was finished in May 2016 and the flats will be handed over to beneficiaries in June 2016. In addition, Montenegro launched the construction of 120 apartments in Konik Camp in March 2016 where the progress is already remarkable, with an estimated completion date in the 2nd half of 2017. In addition, the construction works on a home for elderly people in Pljevlja started in May 2016. The building should be finished in late 2017.




Serbia has made progress in delivery of two housing modalities in particular: distribution of packages of building materials and construction of prefabricated houses. The delivery and installation of 66 pre-fabricated houses to the benefit of close to 200 persons will be finalised this autumn. The construction works on 235 apartments will start in Ovca, City of Belgrade, this summer. This is one of several RHP projects which will be implemented in the Serbian capital, where the RHP investments are expected to amount to EUR 18.5 million providing housing solutions to around 2 700 persons. Furthermore, important construction projects will be launched in different municipalities across the country.

Since 2015, 129 packages of building materials have been distributed to selected refugee families in Serbia. Their installation is to a large extent completed.