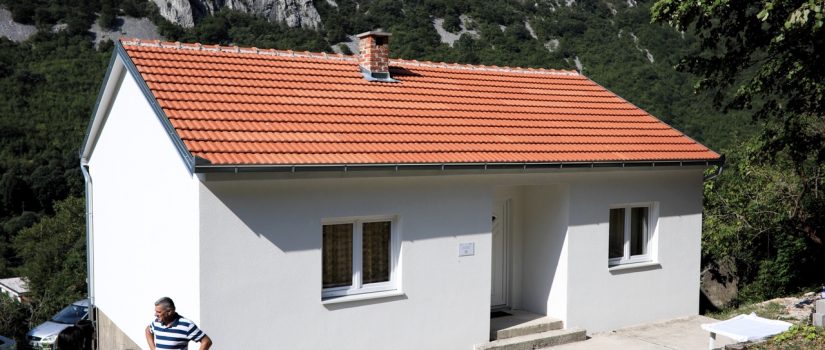 Mostar, Bosnia and Herzegovina, 28 August 2019: today, keys were handed over to the 1000th beneficiary family of the Regional Housing Programme in Bosnia and Herzegovina. Under the project BiH4, since November 2018, 49 individual houses have been reconstructed in Mostar alone.

Jozo Rajic, beneficiary of the 1 000th RHP housing unit in BiH, returned to his home in the village of Grabovica near Mostar, after 26 years of displacement. Thanks to the RHP, his home, which was in ruins, has now been reconstructed, making the return of the family a reality.

The Minister for Human Rights and Refugees of BiH Semiha Borovac said: "The process of return and care for internally displaced persons is of crucial importance for maintaining the stability and peace of the peoples in Bosnia and Herzegovina and in the region. This programme, whose idea came from the representatives of the authorities of our four Partner Countries and whose implementation has been supported by our donors, has contributed significantly to this."

Gianluca Vannini, Head of Operations of the EU Delegation to BiH: "This is the way to rebuild lives. The European Union is the largest donor to the Regional Housing Programme. We have invested 64 million euros and we plan to continue to provide housing units. More than 3 200 families will receive their accommodation and will have the opportunity to renew their lives, especially with the socio-economic support for finding new jobs, which is of key importance for their successful integration."

On behalf of the UNHCR and the OSCE, Anne-Christine Eriksson, UNHCR Regional Representative for Southeastern Europe, said that the Regional Housing Programme is an example of coordinated cooperation between all parties involved, commitment and trust of the stakeholders, including central, cantonal and municipal authorities, donors, implementing partners, the CEB and the civil society. "What should be especially highlighted is the stamina and strength of our beneficiaries in trying to find solutions and a better future for themselves."

The CEB is supporting the four Partner Countries in implementing the Regional Housing Programme.