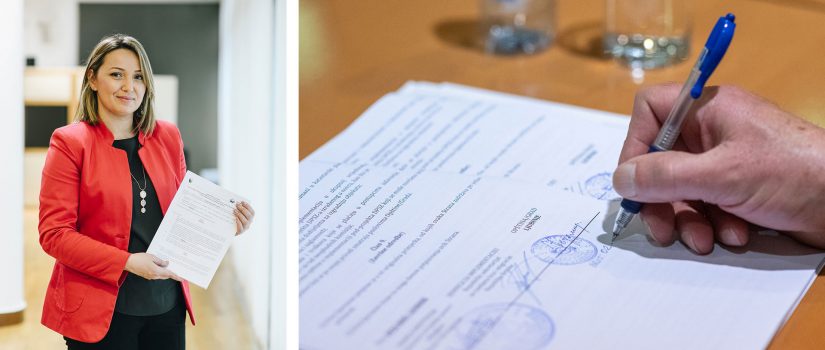 Sarajevo, Bosnia and Herzegovina, 27 January 2020 – A ceremony took place at the Parliament of Bosnia and Herzegovina (BiH) today to mark the signature of Regional Housing Programme (RHP) cooperation agreements with the mayors of 29 municipalities and cities across the Republika Srpska entity of BiH. The cooperation agreements set the framework for the re-/construction of 433 homes for vulnerable refugees and displaced persons under the BiH5 sub-project. The total cost of BiH5 – which aims to re-construct a total of 550 homes – will amount to almost EUR 11 million.

In addition to the mayors of the relevant municipalities and cities, the agreements were signed by Deputy Minister Dževad Mahmutović on behalf of the Ministry for Human Rights and Refugees, and Acting Director Marko Aćić on behalf of the Republic Secretariat for Displaced Persons and Migration.

On behalf of the European Union – the largest donor to the RHP – Gianluca Vannini, Head of Operations at the EU Delegation to BiH, expressed his satisfaction with the results achieved to date, while urging municipalities to address the broader needs of beneficiaries. "Thanks to the joint efforts of our partners, we are helping to deliver homes to vulnerable families", he said. "However, significant challenges remain with regard to their economic and social wellbeing, and it is of utmost importance that municipalities ensure that these families have access to adequate socio-economic facilities such as social services, education and employment."

The Deputy Minister for Human Rights and Refugees of BiH, Džavad Mahmutović, announced that additional cooperation agreements for the construction and renovation of a further 117 homes would shortly be signed with 29 municipalities in the Federation of Bosnia and Herzegovina. In total, the BiH5 sub-project will be implemented in 58 municipalities and cities across the country, a complex and demanding process. "Nevertheless, the Regional Housing Programme is a priority for this Ministry, and we will therefore not only continue to provide housing solutions, but also access to all rights guaranteed to these families," he asserted.