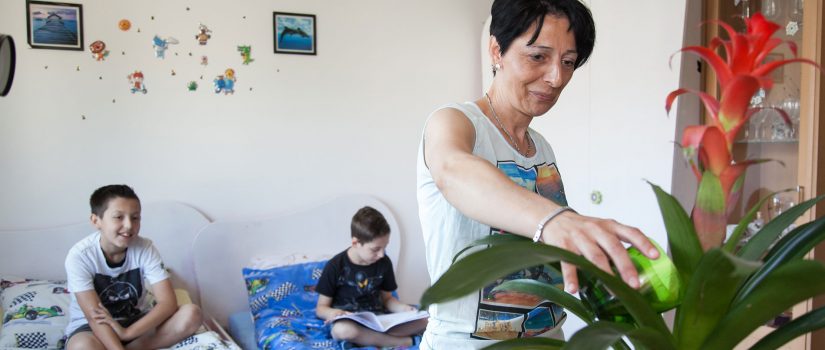 Rusmira came to Zagreb from Zvornik, a small town in Bosnia and Herzegovina, together with her parents and two siblings. They had to leave their big house with a garden in 1992, when they were forced to flee – together with hundreds of their compatriots. Her family was transferred together with their neighbours to Tuzla, where they spent 10 days in a school, sleeping on the floor and without any information about their eldest brother, who had disappeared earlier.

They arrived to Zagreb, where Rusmira's father was working on construction sites, and settled in workers' barracks, all of them in one room, without a bathroom or kitchen.

Her father lost his job in 1993, so Rusmira and her younger brother – who was 13 years old at the time – had to start working, in order to help the family survive. They were selling old clothing and other stuff on improvised stands in the street, sometimes earning enough to pay the rent and buy some food, but, most times, hardly surviving. Rusmira met her husband and got married, but remained homeless, as they had to constantly move from one rented apartment to another, as they did not have enough money to pay the rent. She got her oldest daughter Emina in 2002, followed by two sons in 2006 and 2007. All of them have a refugee status, without basic medical and social insurance.

Soon after the youngest child was born, her husband left, and Rusmira had to take care of the children on her own. She was cleaning houses and lived with her children in small, humid apartments, the only accommodation which she could afford. She tried several times to get housing assistance, but never succeeded. Finally, in 2013, the UNHCR contacted her, helped her initiate the integration process and informed her about the possibility to get an apartment under the Regional Housing Programme. Rusmira said that she didn't believe it until she spent the first night in the 50m2 apartment, situated in a new building in Zagreb. She moved in with the children a few days before the end of 2017, and managed to get furniture and all the necessary white goods thanks to her friends and donors.