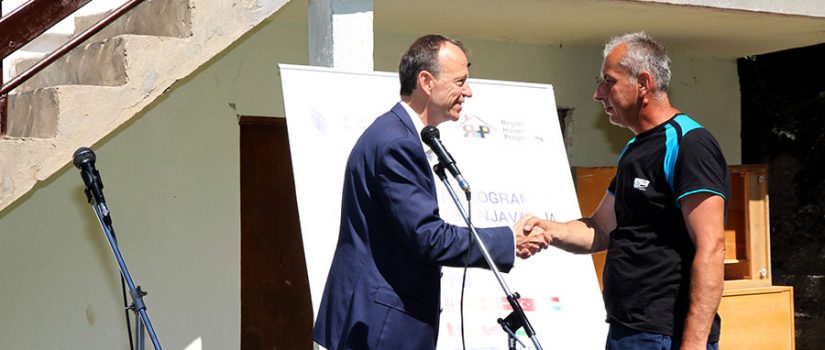 On 29 June 2016, the RHP Steering Committee members visited the town of Novo Gorazde to hand over the keys to reconstructed houses to six beneficiary families. These are the first families in Republika Srpska to have received housing assistance through the RHP: in total, 25 families in Foca and Novo Gorazde will receive housing solutions during this summer, within the scope of the first BiH sub-project.

In addition to the Minister of Human Rights and Refugees of Bosnia and Herzegovina Semiha Borovac, the ceremony was attended by the Minister for Refugees and Displaced Persons of Republika Srpska Mr Davor Cordas as well as RHP's main donors and other stakeholders. Minister Cordas expressed his satisfaction that the RHP is now giving concrete results and stressed that the implementation needs to accelerate in order to finish what was planned.

Morten Jung, Head of Unit, DG Near, European Commission, said that he was very proud to be among the group of equal partners who support the RHP and highlighted the importance of the close cooperation developed among the four Partner Countries.

The RHP stakeholders visited the house of the six-member family Zivojevic, which lived in exile until 2002 when they returned to their ruined house. After many years' wait for reconstruction assistance, they were finally selected under the RHP. The reconstruction works – covering complete refurbishment of the first floor with exterior insulation works and complete replacement of the roof – were completed on 20 June 2016, thus coinciding with the World Refugee Day.