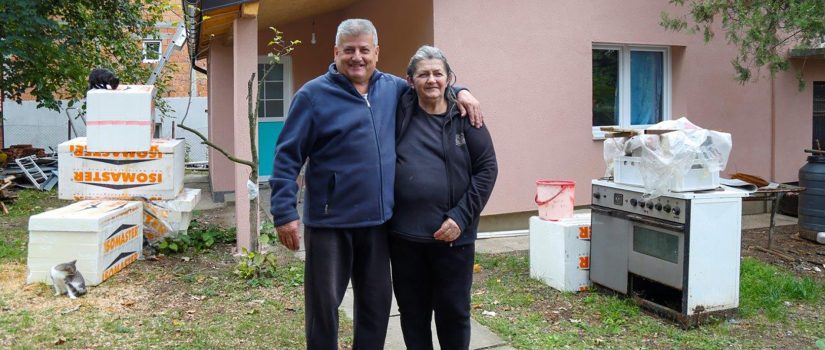 Željko Čanak and his family have put down firm roots in their adopted hometown of Grocka, Serbia. Regularly visited by old friends from Croatia, as well as locals from Grocka, the family has built up an active social life, and Željko, in addition to being an exceptional toolmaker, produces his own brandy every year. "

I feel completely at home in Serbia

," he smiles. "

This country has given me a lot, and we are fully integrated

."

The family's fortunes have significantly changed for the better since they – Željko, his wife Rada, and their son and daughter – fled their village, Zrmanja, in the municipality of Gračac, Croatia, in August 1995. Their first accomodation in Serbia was in Ruma municipality, where they found shelter with Željko's cousin and her family of six. Although a war invalid, Željko managed to quickly find work with a company in Vrčin, enabling the Čanaks to rent their own accommodation. They soon moved to Grocka, where eventually, in 2006 – with assistance from relatives and a bank loan – they bought the house that is their home today.

Željko vividly recalls the condition of the old house. "It was lovely on the outside, but badly damaged on the inside," he says. Through a friend and the Commissariat for Refugees and Migration of the Republic of Serbia, however, he learned that the Regional Housing Programme was offering assistance to families in need. "The building material that we received from the RHP was invaluable," Željko asserts. "We repaired the roof, facade, insulation, and changed the electrical system and pipes. In a nutshell, we were able to put the house in functional, habitable shape." In the coming months, the family intends to replace the joinery, change the floors and paint the house. "I hope that my son will get married soon. He and his family will have the first floor of the house, while Rada and I will live on the ground floor," Željko explains. Last year, their daughter married and moved away.

While at present, only Željko's son has regular employment in Grocka, Željko, appreciative of his new home, maintains a positive attitude: "I always tell my friends: 'In life, there is no giving up – you have to put a smile on your face and keep going forward'", he grins.