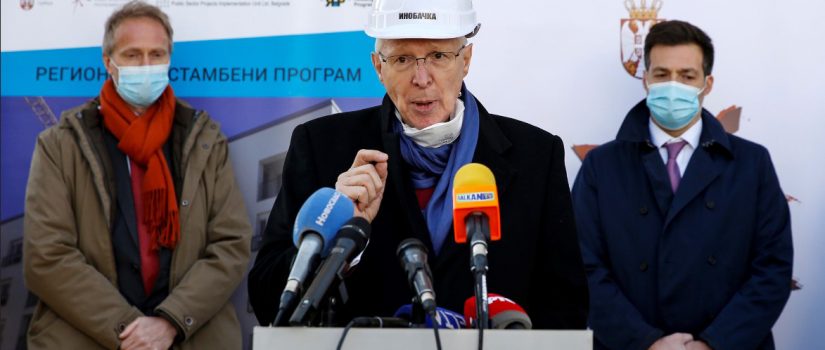 Novi Sad, Serbia, 11 March 2021 – During his official visit to Serbia today, Mr Rolf Wenzel, Governor of the Council of Europe Development Bank (CEB) visited the locations of two Regional Housing Programme (RHP) apartment complexes – one under construction, and one recently completed – for most-vulnerable refugees and displaced persons in Novi Sad. The visit followed meetings with the President of Serbia, Mr Aleksandar Vučić, and other senior government officials, at which Governor Wenzel received the Gold Medal of Merit by Decree of the President for his personal contribution to the cooperation between Serbia and the CEB.

In Novi Sad, Governor Wenzel met with Mr Miloš Vučević, the Mayor of the city. Mr Tomáš Boček, CEB Vice-Governor; Mr Yngve Engström, Head of Cooperation at the Delegation of the European Union to the Republic of Serbia; Mr Vladimir Cucić, the Serbian Commissioner for Refugees and Migration; Mr Stephan Sellen, Deputy Director of the CEB; Ms Jasmina Glisovic, CEB's Country Manager for Serbia, and Mr Dušan Kovačević, Head of the Public Sector Projects Implementation Unit Ltd. also attended.

First on the agenda was a tour of 152 apartments under construction in Futog, which are scheduled to be completed in autumn 2021. CEB Governor Wenzel noted that thanks to the strong support that the RHP had continued to receive from the local government in Novi Sad, in addition to the steadfast political commitment of the Government of the Republic of Serbia, he had every confidence that the construction of all homes in Novi Sad would be completed on schedule. "I expect good results on all construction sites and projects," he asserted.

Welcoming Governor Wenzel to Novi Sad, Mayor Vučević observed that by the end of the RHP in 2022, a total of 522 RHP apartments in multi-apartment buildings were expected to have been constructed in Futog and Veternik in Novi Sad, in addition to the provision of building material packages and purchase of village houses and apartments. He thanked both the CEB for managing the implementation of the RHP and the EU for its support as the largest Donor to the Programme.

Following the visit to Futog, the visiting delegation travelled to Veternik, the location of a flagship RHP complex of 276 apartments, which was completed in June 2020. While there, the delegates met with the Ninkovic family, who had fled Sarajevo during the conflicts in the 1990s before eventually moving into their new home in the complex last year.