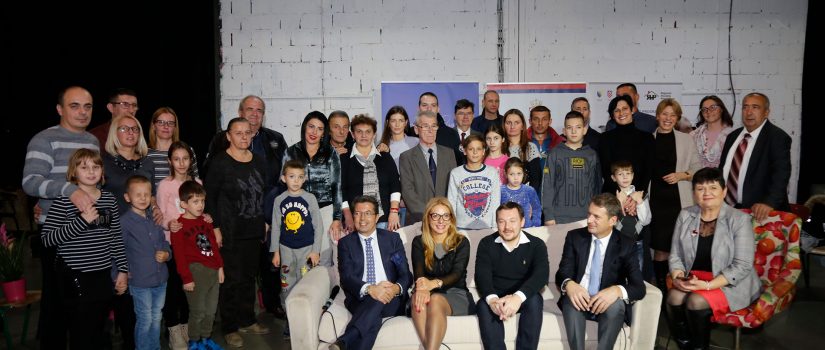 Belgrade, Thursday 6 December 2018 Within the framework of the Human Rights Week in Serbia, organized to commemorate the 70th anniversary of the Universal Declaration of Human Rights, OSCE Serbia, in cooperation with the United Nations Serbia, European Union Delegation to the Republic of Serbia, Council of Europe and Commissariat for Refugees and Migration of the Republic of Serbia, organized a housewarming party for refugees and former refugees – beneficiaries of the RHP in Serbia.

On this occasion, RHP beneficiary families hosted representatives of the RHP donor community, intergovernmental and international organizations, as well as state institutions and shared their personal impressions about how the RHP has contributed to the fulfilment of the right to adequate standard of living, and how the access to this right has changed their lives after many years in displacement.

Welcome speech was given by Aleksandra Sijelja, RHP beneficiary who fled to Serbia from Croatia, who introduced the other RHP beneficiary hosts to the event – families Borjan, Lackovic, Kovacevic, Manojlovic, Bunijevac, Sikljak, Mihajlovic, Brestovac, Janjatovic, Uzelac, Bozic, Despotovic and Jokic.

"I live alone, but thanks to the RHP, I don't feel alone", said Mr Sikuljak in his conversation with Ms Samardzic Markovic, Director General of DG Democracy at the Council of Europe. Ms Samardzic Markovic reminded that the Council of Europe Development Bank is there to provide support to people who need it most and invited all to encourage other families, who have been displaced, to apply to the Regional Housing Programme for a housing solution.

RHP stakeholder representatives at the event included Nicolas Bizel from the EU Delegation to Serbia, Hans Schodder from the UNHCR Serbia, Adrea Orizio from the OSCE Serbia, as well as representatives from the Commissariat for Refugees and Migration of the Republic of Serbia and the Public Sector Projects Implementation Unit Ltd. Belgrade.

To date, over 2 300 housing solutions have been provided to RHP beneficiaries in Serbia, including village houses, pre-fabricated houses, building material packages and apartments.