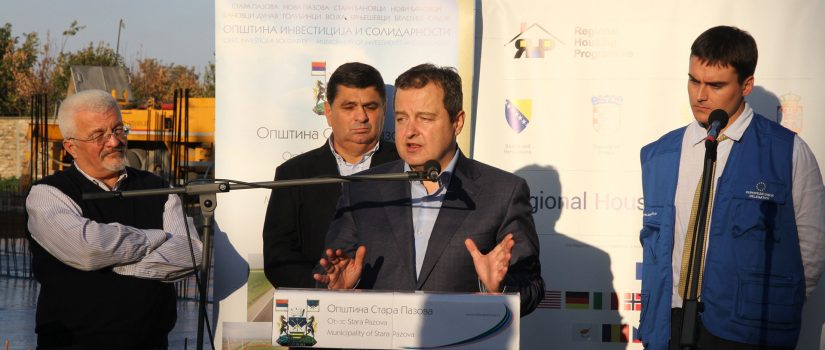 Golubinci, Stara Pazova, 13 October 2017 – An event was organised today in Golubinci, near Stara Pazova, to mark the beginning of works on the construction of apartments for refugees from Bosnia and Herzegovina and Croatia under the Regional Housing Programme (RHP), sub-project SRB4.

The sub-project SRB4 foresees, among other things, the construction of 261 housing units in 13 municipalities. In addition to Golubinci, where the construction of 30 housing units started today, construction works are ongoing in another nine municipalities, whereas the works are scheduled to start soon in further three municipalities.

At this occasion, Ivica Dačić, First Deputy Prime Minister, Minister of Foreign Affairs and Chairman of the Commission for Coordination of the Process of Permanent Integration of Refugees, declared:

"In the past years, I have had the privilege to be regularly involved in various events marking the progress of the Regional Housing Programme. It is an honor and a pleasure to be part of a project that truly changes the lives of people, but it is also a responsibility to meet the expectations of families that have lived in difficult conditions for over 20 years and to ensure that the Regional Housing Programme is fully implemented", said Deputy Prime Minister Dačić.

Vladimir Cucić, Serbian Commissioner for Refugees and Migration, emphasised that the Regional Housing Programme in Serbia is being implemented very intensively and that the Government of Serbia is seriously committed to the completion of this Programme.

Participants were also addressed by Paul-Henri Presset, representative of the European Union Delegation to Serbia, Joseph Mellot, Deputy Head of the OSCE Mission to Serbia, Andrej Kazakov, UNHCR Representative, and Djordje Radinovic, Mayor of the Municipality of Stara Pazova.