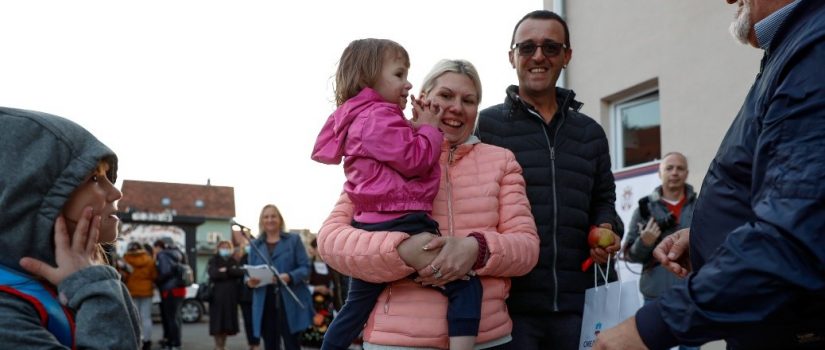 Belgrade, Serbia, 25 October 2021 and Smederevo, Serbia, 26 October 2021 – 35 contracts for purchased apartments have been delivered to refugee families from Bosnia and Herzegovina and Croatia who live on the territory of Belgrade and Ub municipalities.

The events were attended by Nikola Selaković, Minister of Foreign Affairs and President of the Commission for Coordination of the Process of Permanent Integration of Refugees; Emanuele Giaufret, Ambassador and Head of Delegation of the European Union to Serbia; Jorn Gjelstad, Ambassador of the Kingdom of Norway to Serbia; Francesca Bonelli, UNHCR Representative in Serbia and Vladimir Cucić, Serbian Commissioner for Refugees and Migration, among others.

The Minister of Foreign Affairs Nikola Selaković highlighted that more than 6 000 families from the former Yugoslavia have received homes thanks to the Regional Housing Programme (RHP) in Serbia to date.

Ambassador Giaufret stated that the RHP showed how successful regional cooperation can be, highlighting the EU's intention to support the RHP until the end. He also recognised, despite all the challenges imposed by the Covid-19 pandemic, the strong efforts of the Serbian Government to provide permanent solutions to all families involved in the RHP. He concluded by saying that among all the projects the EU has funded in Serbia, the ones that bring the greatest joy are those focused on people – their rights, their dignity and their happiness. Respect for human dignity and human rights, as well as equality and freedom, are among the European Union's fundamental values.

"The RHP is not just delivering housing: the fact that it is fostering regional cooperation and transferring knowledge to national administrations makes it a unique programme", said Francesca Bonelli.

The following day, 26 October, keys for 20 apartments were delivered in Smederevo to refugee families from Bosnia and Herzegovina and Croatia. The event was attended by Nemanja Starović, State Secretary (Ministry of Foreign Affairs); Leonetta Pajer, Head of Operations, EU Delegation to Serbia; Vladimir Cucić; Marija Marković Stavrić, Deputy Mayor of Smederevo and Dušan Kovačević, Director of the Public Sector Projects Implementation Unit Ltd., among others.

Ms Pajer from the EU highlighted that, with 236 million euros, the European Union is the largest donor to the Regional Housing Programme. She further thanked all RHP partners, stating that this event was the result of the great efforts and dedication of all of them.