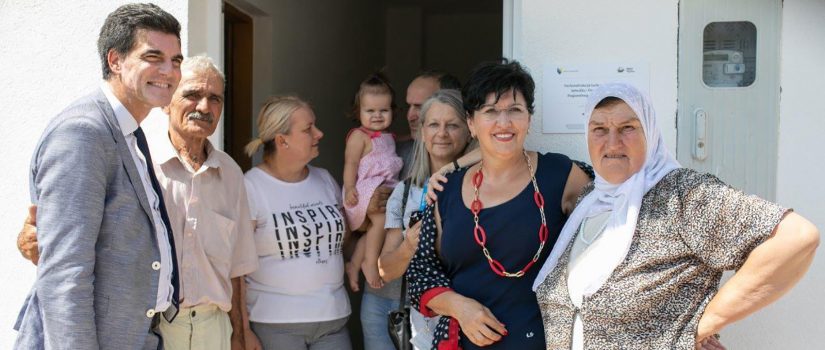 Thanks to the Regional Housing Programme, Kemal Coric was recently able to return to Podvelezje, a small village on the Velež Mountain, in the area of the city of Mostar. In August 2019, Kemal moved into a newly-built house with his wife, two children – a son aged 14 and a daughter aged two – and his elderly parents.

In 1992, Kemal, a young boy at the time, was forced to flee the family home in Podvelezje due to the devastation of the war. Together with his parents, he fled to other villages surrounding Mostar: "As I recall, we lived in about 11 different accommodations as displaced persons," says Kemal. "It was unbearable all those years."

During this period, Kemal married, and now has two children. His 14-year-old son plays football in Mostar. Kemal remarks: "Our house is far from the City of Mostar, and there is no public transportation, but somehow, my son always manages to find transport to the football training area."

Due to health problems, Kemal earns a living by managing livestock. He has bought sheep in order to produce milk and cheese which he then sells to the local neighbors. His wife has a part-time job. While Kemal's parents recall the difficulties involved in returning to the ruins of their house, they express relief that their new home is now complete: "Now, in our new house, we feel at home again – back where we belong."

The Coric family had heard about the RHP via the Federal Ministry of Displaced Persons and Refugees (FMDPR) of Bosnia and Herzegovina. "All these years, I applied for assistance to reconstruct our house whenever the opportunity arose," Kemal observes, "but the RHP is the only programme that has actually helped my family."

In August 2019, RHP donors and stakeholders had the pleasure of visiting the Coric family in their new home during celebrations to mark the delivery of the thousandth (1000) RHP housing unit in BiH.