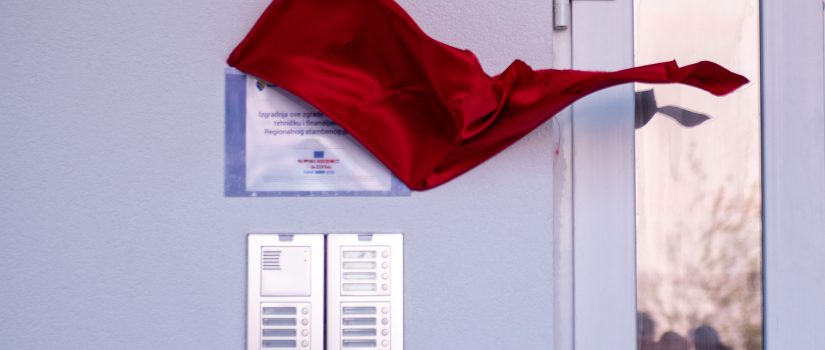 Foča and Bileća, Bosnia and Herzegovina, 11 December 2019 – Regional Housing Programme (RHP) beneficiaries and stakeholders gathered in Foča and Bileća, Bosnia and Herzegovina (BiH) today to celebrate the moving of 27 most-vulnerable refugee and displaced families into new RHP-financed apartments in Foča (12 families) and Bileća (15 families).

The events, which were hosted by the Ministry for Human Rights and Refugees of BiH, were attended by a number of key representatives, including Semiha Borovac, the Minister for Human Rights and Refugees of BiH; the mayors of Foča and Bileća, Radislav Masic and Miljan Aleksić; Gianluca Vannini, Head of Operations at the EU Delegation to BiH; Petra Kochendörfer, Deputy Head of Mission, German Embassy in BiH; and Alexander Chuplygin, Deputy Head of the OSCE Mission to BiH. Also present were Marko Acic, Acting Director of the Republic Secretariat of Displaced Persons and Migration, and UNHCR representatives Neven Crvenkovic and Branka Tomic.

Unveiling the RHP plaque at the entrance to the building in Bileća, Minister Borovac stated: "This Programme reaffirms not only the provision of housing units, but the readiness for the coexistence of all citizens in Bosnia and Herzegovina. I should also stress that the RHP would not be successful without a high level of cooperation among the four Partner Countries. Proof of this is that we always attend these events together."

EU representative Gianluca Vaninni agreed, adding: "We are almost halfway there, as by the end of this year close to 1 500 vulnerable families in Bosnia and Herzegovina will have a place to call home. The plan for 2020 is to deliver a further 500 housing units. A lot of work has been done. However, significant challenges remain with regard to the economic and social wellbeing of most of these families. Considerable efforts need to be invested in order to ensure the integration of families into their communities," he said.

Boško Savić, beneficiary, commented: "I cannot express my happiness and satisfaction when I look at this beautiful building. I am speaking in front of all my lovely neighbours and I want to wish long and happy lives to all of us in our new homes."

OSCE representative Alexander Chuplygin stated that both the OSCE Mission and UNHCR would continue to work closely with all partners to ensure continued implementation of the RHP, and would also continue to assist in ensuring the access of returnees and displaced persons to social and economic rights.

Petra Kochendörfer, Deputy Head of Mission, Embassy of Germany in BiH, emphasised the importance of the RHP, not only for Germany, but also for other donors including the EU, USA, Norway and Switzerland, which are pleased that approximately 5 600 homes have been delivered across the four Partner Countries to date. She commended the four countries for their intense efforts which had made the RHP a prime example of how countries in the Western Balkans can work together to support their citizens. These efforts are an important element when it comes to lasting reconciliation, peace and prosperity for the people in BiH, she said.

15 beneficiary families in Bileća will be supported by the Catholic Relief Services (CRS) through socio- economic assistance over the next three months, funded by the U.S. Government.