June 2023 figures
For close to 30 years, Montenegro has provided shelter to displaced persons from Bosnia and Herzegovina and Croatia, as well as to internally displaced persons (IDPs) from Kosovo. While some of the displaced persons and IDPs have already integrated locally, most of them are still in need of durable housing solutions due to their extreme socio-economic vulnerability.

In 2011, the Government of Montenegro adopted the National Strategy for Durable Solutions for Displaced and Internally Displaced Persons, with special emphasis on the Konik area. The Strategy has created a framework for the permanent and sustainable resolution of displacement issues in Montenegro.
In Montenegro, the Regional Housing Programme (RHP) provides durable housing solutions to the most-vulnerable displaced and internally displaced persons through local integration or within institutions of the social welfare system, such as Homes for the Elderly. In total, more than 640 households (or almost 2 000 individuals) should benefit from the RHP.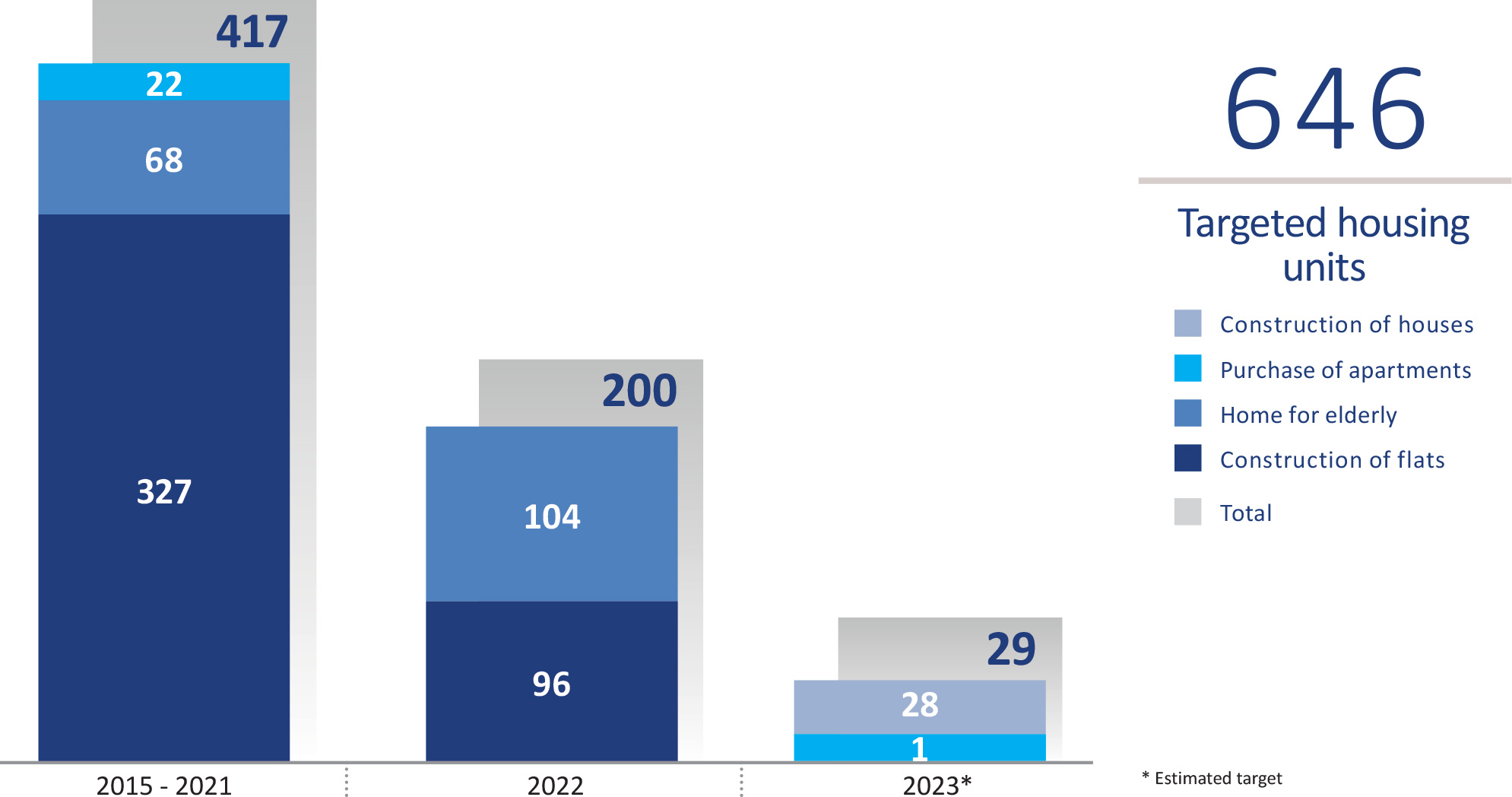 April 2023 figures
SUB-PROJECTS IN MONTENEGRO

Sub-project MNE1
Construction of two blocks of flats for 62 I/DP families in Niksic

Sub-project MNE2
Provision of housing to 171 most vulnerable families from camp Konik 1 and its surroundings, through construction of 17 buildings in the city of Podgorica

Sub-project MNE3
Construction of a home for 68 elderly/handicapped persons in Pljevlja

Sub-project MNE4
Construction of 94 apartments for 271 persons in the municipality of Berane

Sub-project MNE6
Conversion of a military facility into a home for 104 elderly persons and adults with disabilities in Niksic

Sub-project MNE7
Purchase of 36 apartments in the municipality of Herceg Novi

Sub-project MNE8
Construction of minimum 50 individual houses in various municipalities in Montenegro

Sub-project MNE9
Construction of apartments for 96 most vulnerable families in Vrela Ribnička, Podgorica

Montenegro Factsheet - April 2023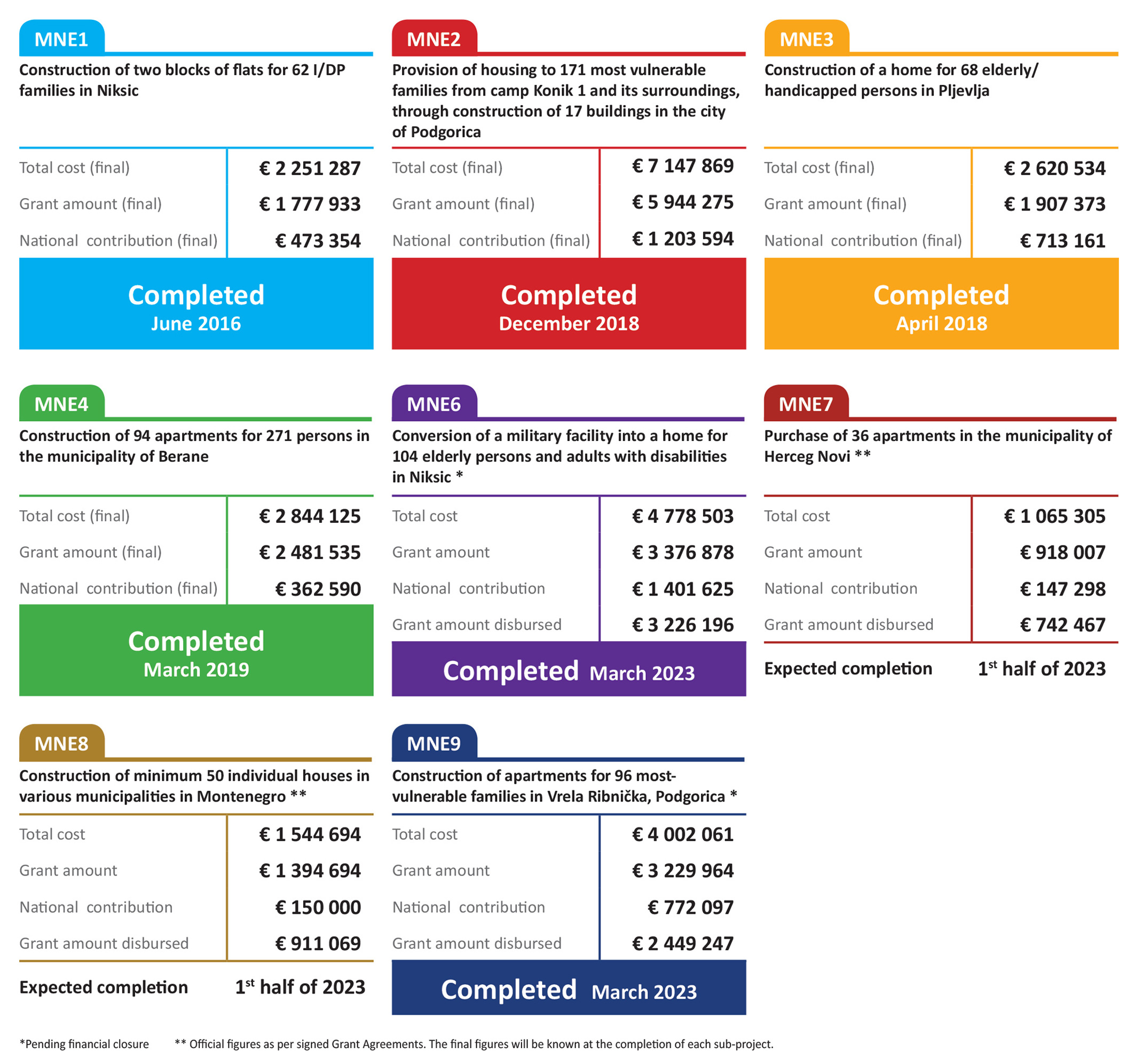 April 2023 figures
IMPLEMENTING STRUCTURE
LEAD INSTITUTION

MINISTRY OF LABOUR
AND SOCIAL WELFARE
The Ministry ensures the institutional framework of the Montenegrin Country Housing Project's management and control system, development of sub-projects, selection of beneficiaries, conclusion of inter-institutional agreements with municipalities (in the event that housing solutions are implemented on their territory), submission of procurement plans to the CEB, monitoring of reports, as well as approval and submission of requests for the payment of contracts.
PROJECT IMPLEMENTATION UNIT

CAPITAL PROJECTS
ADMINISTRATION
The Capital Projects Administration carries out activities such as establishing and maintaining a procurement and contract management system, and managing any Donor funds received for technical assistance, providing relevant input for the development of sub-projects as agreed with/requested by the Lead Institution, co-signing inter-institutional agreements with municipalities, developing tender dossiers, and conducting procurement or performing ex-ante controls on tender dossiers (when municipalities are Contracting Authorities), managing and monitoring contract information, as well as checking and approving invoices submitted by contractors.
USEFUL INFO FOR BENEFICIARIES
Find out by contacting the RHP Lead institution:
Ministry of Labour and Social Welfare
Rimski trg 46, 81000 Podgorica
+382 20 482 148
www.gov.me/en/organizational-units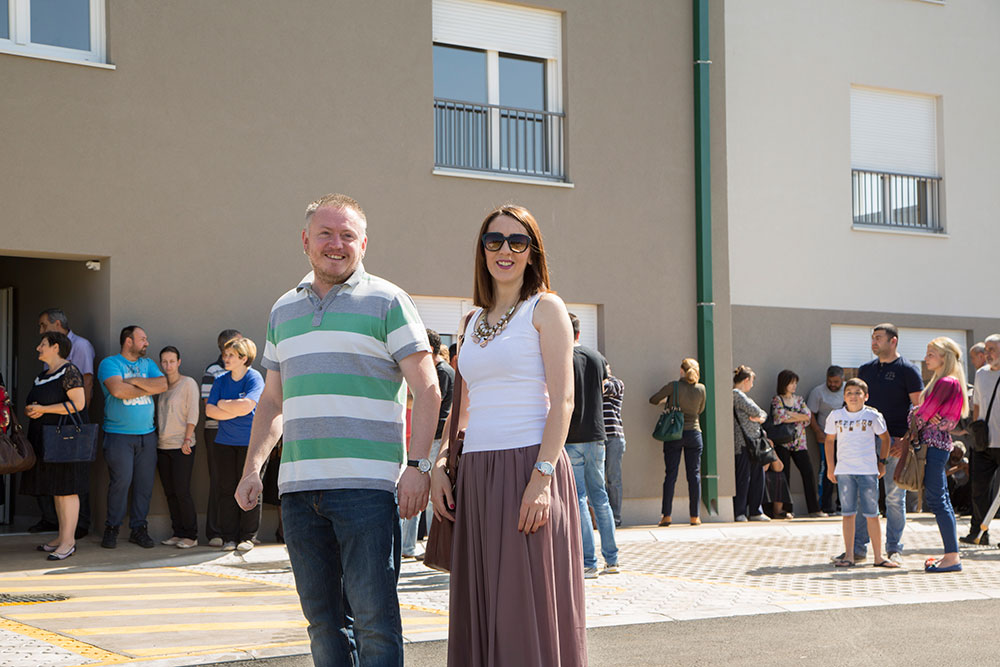 Ministry of Labour
and Social Welfare

Capital Projects
Administration