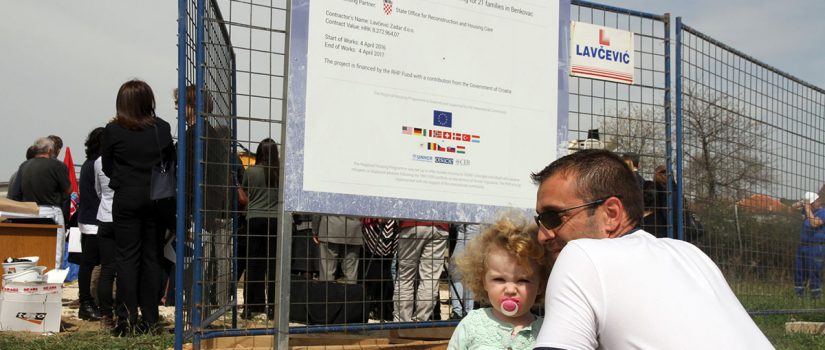 The State Office for Reconstruction and Housing Care organised on 4 April 2016 an inauguration ceremony on the construction site in Benkovac, to celebrate the start of construction of a residential building with 21 apartments.

The apartments will be inhabited by families with the status of former tenancy right holders and families from Bosnia and Herzegovina, most of whom had a refugee status in Croatia. The total cost of the project is estimated at EUR 1.3 million, of which EUR 1 million will be covered from the RHP Fund resources. The project should be completed in the second half of 2017.

In addition to the new Head of the State Office for Reconstruction and Housing Care Mr Nikola Mazar, who welcomed the guests and future beneficiaries, the event was attended by the Minister of Regional Development and EU Funds Mr Tomislav Tolusic, Deputy Minister of Social Policy and Youth Mr Ante Babic, Deputy Perfect of Zadar County Mr Rudolf Dvorski, Mayor of Benkovac Mr Branko Kutija and the Political Counsellor at the US Embassy Mr Eric Williams. The representatives of UNHCR were also present at the site.

Nikola Mazar, Head of State Office for Reconstruction and Housing Care, said: "Our mission is to secure a decent life to former refugees in Croatia, to whom we feel responsible as a government, and foremost as people to people. Therefore, such projects should not stop. My engagement through the State Office is even greater, as I have a personal experience of living as a refugee".

Branko Kutija, Mayor of Benkovac stated: "I am glad that Benkovac is part of the RHP, as our town is important for the socio-economic development in Croatia. The town donated the land-plot and the infrastructure. We will continue to support this project also in the future with the initiatives that will foster local integration of the people moving in".

Tomislav Tolusic, Minister of Regional Development and EU Funds, added: "I wish to thank the RHP for bringing new hope to refugee families in Croatia. I would also like to thank the city of Benkovac, which provided the land plot and the infrastructure. We, as the State, will strive also in the future to keep employing domestic expertise for the construction of RHP housing solutions."

Eric Williams, Embassy of the U.S.A, concluded: "We, the Donors and the governments of the Partner Countries, jointly tackle real problems of refugees in the region. Maybe 20 apartments does not seem as a big number, but for the families, that will raise children here and visit their grandparents in new apartments, this is a life changing event".