November 2022 figures
An estimated 550 000 people were displaced within Croatia during 1991-1992. Over the 1992-1995 period, the country received some 400 000 refugees from Bosnia and Herzegovina, of which an estimated 120 000 have since acquired Croatian citizenship. In the period from 1991 to 1995, some 250 000 minority Serbs fled Croatia. The authorities have so far registered 133 140 returnees of Serbian ethnicity to and within Croatia, representing around half of those who fled their places of origin.
In Croatia, the Regional Housing Programme (RHP) is expected to provide durable housing solutions to several categories of refugees, internally displaced persons (IDPs) and returnees either in their places of origin or places of displacement, as well as within institutions of the social welfare system. Altogether, 402 housing solutions should be delivered under the sub-projects approved to date, to the benefit of an estimated 1 200 most-vulnerable persons.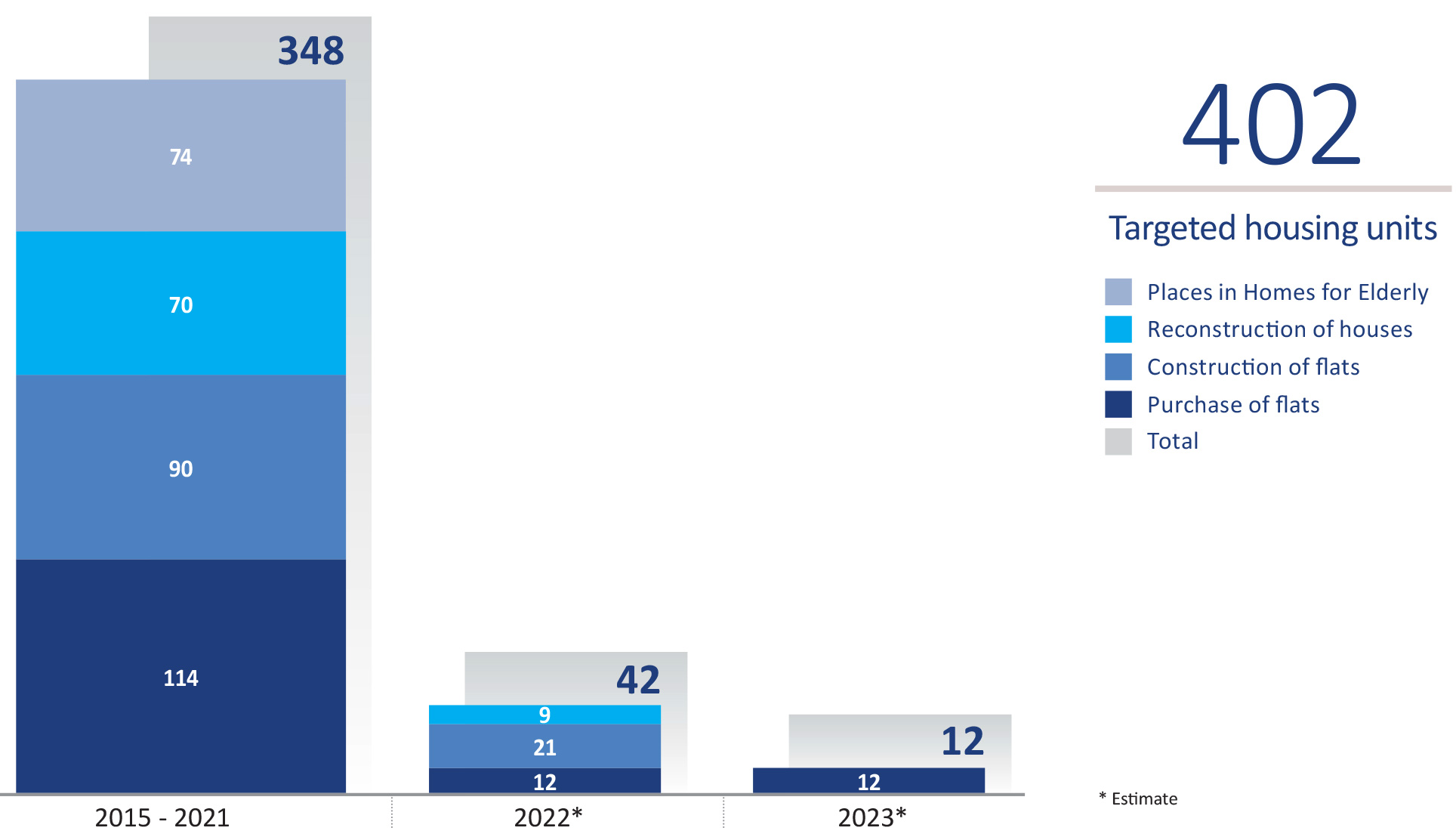 November 2022 figures

Sub-project HR1
Construction of an apartment building for 29 families in Korenica

Sub-project HR2
Construction of two residential buildings in Knin for 40 beneficiary households

Sub-project HR3
Reconstruction of a home for 74 elderly and disabled persons in Glina

Sub-project HR4
Purchase of 100 flats within and outside the Areas of Special State Concern

Sub-project HR5
Construction of a residential building for 21 families in Benkovac

Sub-project HR6
Renovation, reconstruction or construction of 61 family houses

Sub-project HR7
Construction of a residential building for 21 families in Vukovar

Sub-project HR8
Renovation, reconstruction or construction of up to 18 family houses

Sub-project HR9
Purchase of up to 38 flats

Croatia Factsheet - November 2022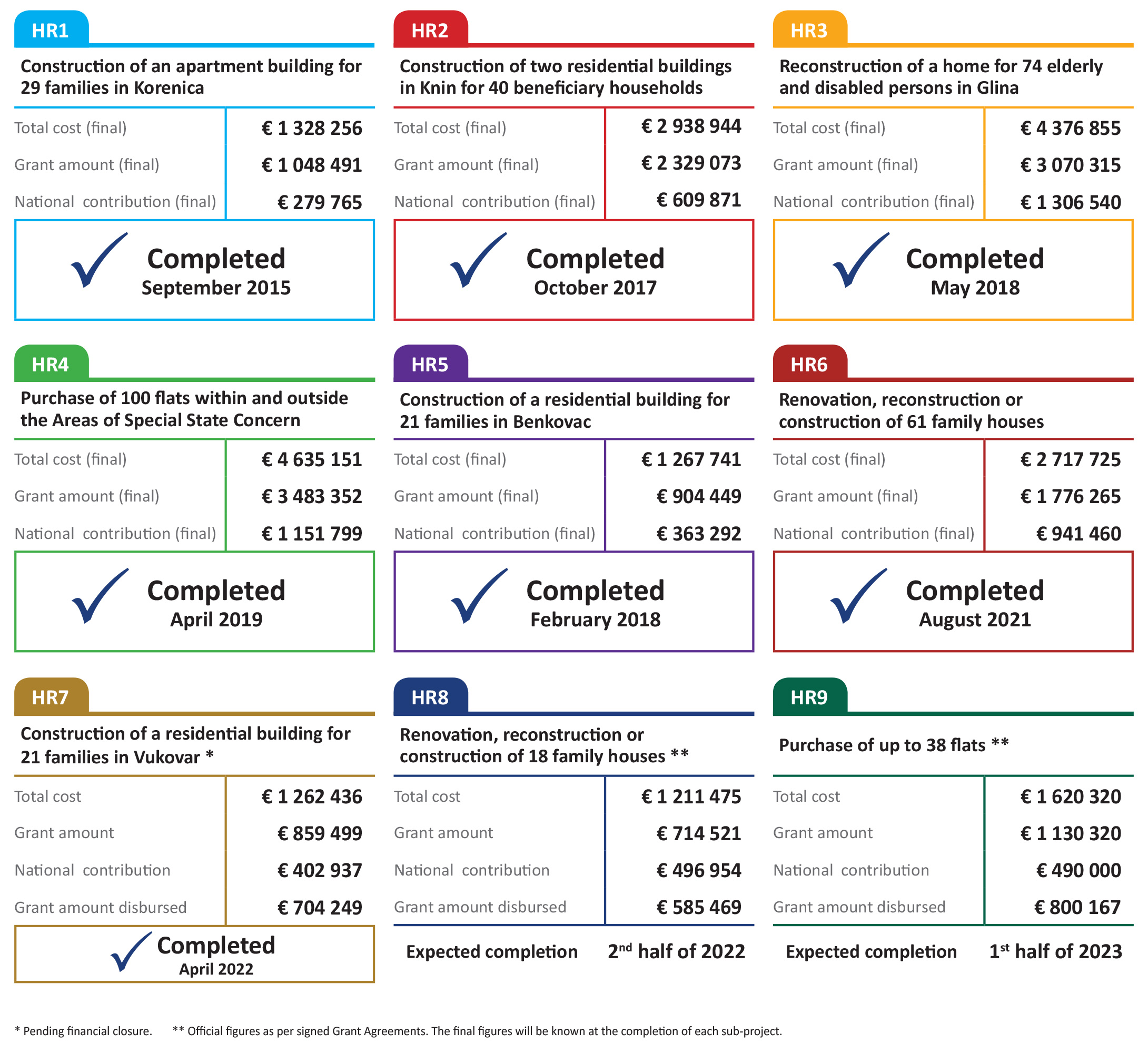 November 2022 figures
IMPLEMENTING STRUCTURE
LEAD INSTITUTION

CENTRAL STATE OFFICE FOR
RECONSTRUCTION AND HOUSING CARE
The RHP Lead Institution in Croatia is the Central State Office for Reconstruction and Housing Care (CSORHC). The Government of the Republic of Croatia established the CSORHC in May 2013, to manage, among other things, the implementation of reconstruction and housing projects for returnees, refugees and former tenancy right holders. These sectors were previously under the responsibility of the Ministry of Regional Development and EU Funds which has 20 years of experience in the implementation of housing programmes. In total, almost 150 000 housing units have been reconstructed so far. The Central State Office for Reconstruction and Housing Care has 142 employees.

Within the framework of the RHP, the Central State Office for Reconstruction and Housing Care is responsible for implementing the Croatian Country Housing Project and for the overall planning and development. It is also in charge of selecting the beneficiaries in cooperation with UNHCR, issuing requests for construction of housing units to the PIU, issuing approvals to the Agency for Transactions and Mediation of Real Estate (APN) for purchasing flats, submitting project proposals for financing, submitting reports to CEB, organising visibility events and maintaining cooperation with Partner Countries. www.sduosz.gov.hr
USEFUL INFO FOR BENEFICIARIES
Find out by contacting the RHP Lead institution:
Central State Office for Reconstruction and Housing Care of Republic of Croatia
Savska cesta 28, 10000 Zagreb
+385 1 6172 524
rhp-croatia@sduosz.hr
www.sduosz.gov.hr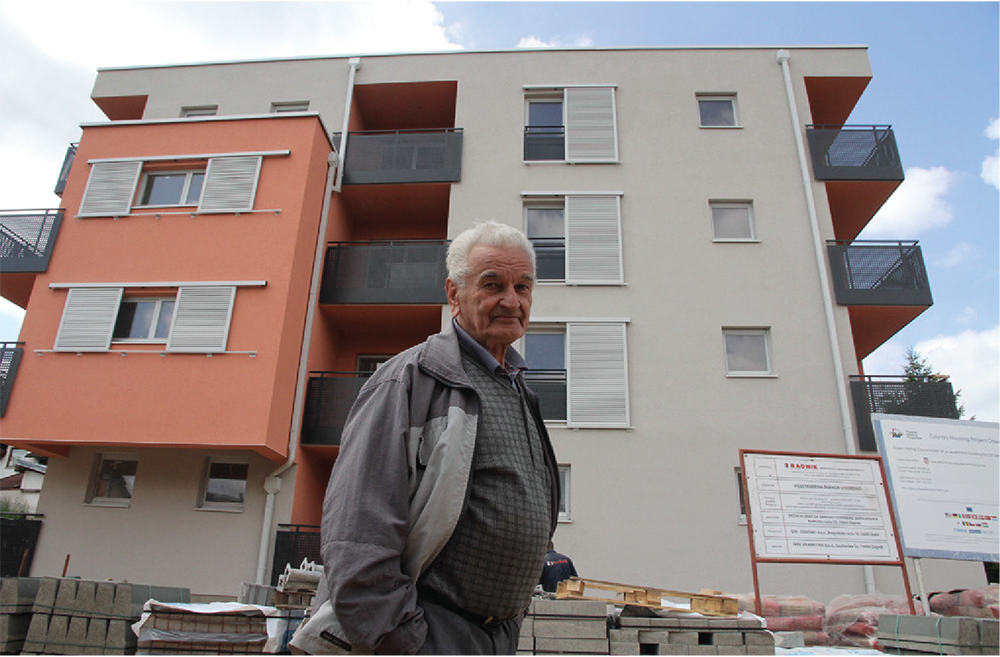 Central State Office for Reconstruction and
Housing Care of Republic of Croatia
Scroll