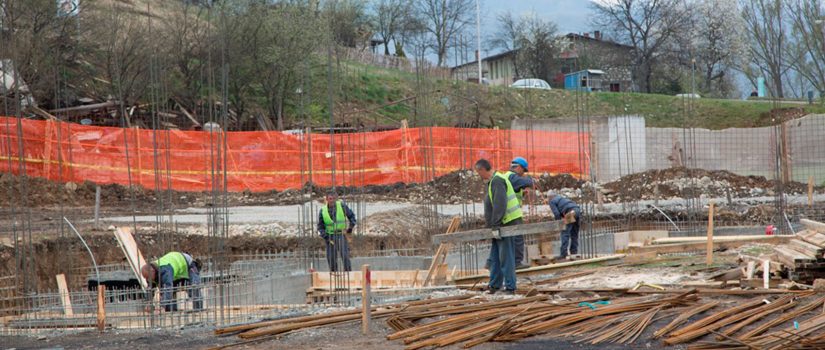 On 7 April 2017, Kemal Purisic, Minister of Labour and Social Welfare, Dragoslav Scekic, Mayor of Berane and Leslie Freriksen, representative of the U.S. Embassy in Montenegro, laid the foundation stone for the construction of 94 housing units to accommodate displaced persons in Berane.

The total cost of the project is estimated at EUR 4 million, out of which EUR 3.6 million will be financed from the RHP Fund resources. The works contract with the selected contractor was signed in December 2016 and the works should be completed in the first half of 2018.

Montenegro's Minister of Labour and Social Welfare Kemal Purisic reminded that more than 1 500 housing solutions have already been provided to meet the needs of refugees through a number of projects funded by the Government of Montenegro, non-governmental organisations, international partners and donors.

"I am pleased to say that the Rudes 1 and Rudes 2 collective centres will be closed down as a result of the implementation of this project, thereby enabling their residents to finally obtain durable and sustainable solutions", stated Minister Purisic while expressing his gratitude to the donors and partners for their overall contribution to the development of the Regional Housing Programme.

Mayor Scekic stressed that the this project will enable 94 families that have decided to choose Berane as their home, to finally settle after 25 years of living in temporary and uncertain conditions. He added that the state must solve the issue of citizenship of displaced persons so as to enable their full integration into the community.

"The Regional Housing Programme has come to be a programme that provides concrete assistance, for which all of us have nothing but words of praise, stated Mr Scekic."Ensuring that essential housing needs are met will enable displaced persons and individuals to focus on other significant aspects of their lives, such as finding employment, integrating into cultural and economic life of the community and improving their lives, i.e. lives of their families", stated Ms Freriksen and added that "As a donor, the U.S. wishes to find additional ways to support fulfilment of non-housing needs, since this is an excellent beginning, but it is not the only problem to be solved".

In addition to Mayor Scekic, Minister Purisic, and Ms  Freriksen, the ceremony was also attended by Igor Burazin, representative of the Council of Europe Development Bank, Dan Redford, OSCE representative and Roberta Montevecchi, representative of UNHCR in Montenegro.