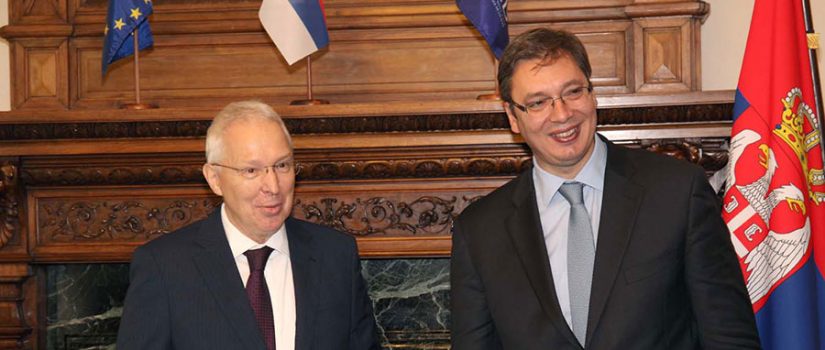 The Governor of the CEB, Rolf Wenzel, today welcomed the Prime Minister of the Republic of Serbia, Aleksandar Vucic, accompanied by the Minister of Labour, Employment, Veteran and Social Affairs, Aleksandar Vulin. Discussions focused on bilateral co-operation and the migrant and refugee crisis. Governor Wenzel and Prime Minister Vucic signed a EUR 755 000 grant agreement, to be used for migrants and refugees in Serbia.

More than 800 000 migrants and refugees have passed through Serbia since the beginning of 2015. An estimated 4 500 persons are currently accommodated in reception centres throughout the country. CEB assistance is being used to provide shelter, food, health care, and legal advice to these persons. The agreement signed today brings the total amount of grants provided to Serbia from the CEB's Migrant and Refugee Fund to EUR 3.5 million.

A CEB member since 2004, Serbia is also an active partner of the Bank in the framework of the Regional Housing Programme, which the CEB is managing. As the largest beneficiary of the RHP, Serbia is implementing projects that should provide decent housing to an estimated 14 000 vulnerable refugees – or 4 700 families – in the next two years. 2016 should see the delivery of over 600 housing units throughout the country.

The meeting was also an opportunity to discuss the ongoing implementation of the RHP in Serbia. Governor Wenzel thanked Serbia for its strong engagement in implementing this important programme. He also underlined that the four Partner Countries should continue to demonstrate sound delivery in the next few months, which is crucial for securing further funding for the RHP.

Both Governor and the Prime Minister agreed that the RHP is an outstanding example of successful regional cooperation as it demonstrates how several countries can adopt a cooperative approach in assisting vulnerable groups of population in a humane way.