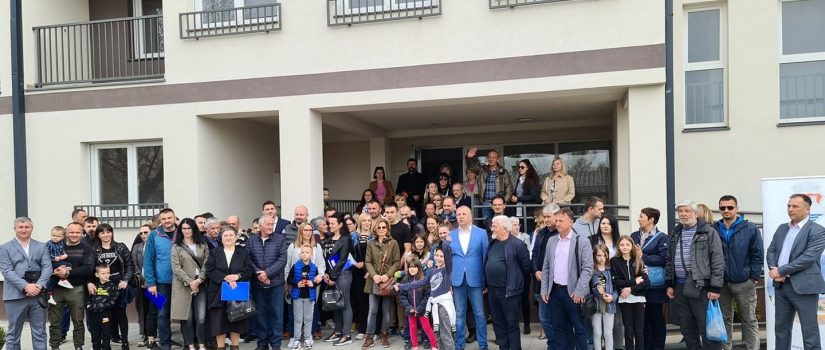 Pančevo, Serbia, 30 March 2022 –  Keys to 48 apartments were handed over to refugee families in Pančevo and Glogonj, Serbia today, thanks to the Regional Housing Programme. The first event took place in the city of Pančevo, at the RHP building of 40 apartments, followed by a ceremony in the settlement of Glogonj, where an additional eight apartments were handed over to RHP beneficiaries.

In addition to the beneficiaries themselves, the events were attended by Vladimir Cucić, the Serbian Commissioner for Refugees and Migration; Aleksandar Stevanović, the Mayor of Pančevo, and Violeta Samardzic, representing UNHCR, as well as representatives of the Serbian national institutions.

One of the beneficiaries present, Dragana Knežević , recalled the story of her family's departure from Knin, Croatia, in 1995. "First we moved to Novi Sad, Serbia, where I was born," she said. "Then, we moved to Zaječar, and after that, Pančevo, where we have lived as tenants for more than fifteen years. Securing permanent accommodation means a lot to my family, as well as to all of the refugee families here.  I am so glad that we finally have the keys to our new apartment."

Mayor Stevanović agreed, adding that the City of Pančevo took great pride in helping to provide housing to refugees and displaced persons. "I know how much this means to all the families here," he said. "The day that you have looked forward to for so long has finally arrived. I would like to congratulate you from the bottom of my heart."

Congratulating the beneficiaries, Violeta Samardžić reflected on the role of UNHCR in the RHP. "For over two decades, UNHCR has helped the Serbian government to integrate refugees through various programmes, all in cooperation with local governments. Together with the OSCE, we have been part of the process that has resulted in the Regional Housing Programme," she smiled.