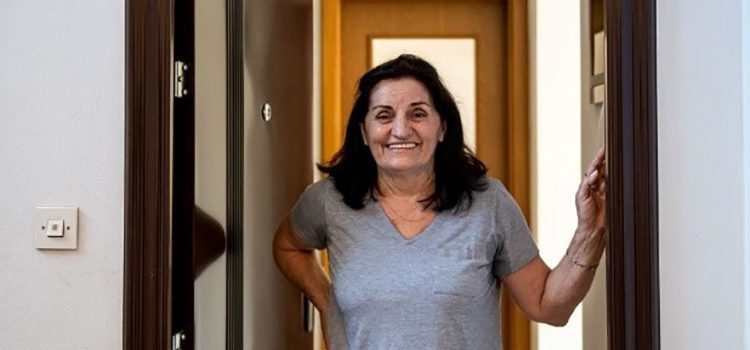 Dragica Brković is the proud owner of an apartment purchased in Topusko, Croatia, under the Regional Housing Programme. Although retired, she feels fit and well, enabling her to work as a seasonal labourer on the Adriatic coast each summer. Every day, she briskly walks three laps around the lake. "I feel healthy here, surrounded by the beautiful nature. I am very happy, and will stay here for the rest of my life. I can't stop smiling," she laughs.

Dragica's story begins in Ugljevik, Bosnia and Herzegovina (BiH), where she was born. In the 1980s, she moved to Rijeka, Croatia, to work, where she met her husband, who was from Karlovac, Croatia. The couple soon married and had two daughters. "We had a happy family life in Karlovac – we had jobs and a nice flat," Dragica says.

With the outbreak of conflict in the 1990s, however, the family's good fortunes took a dramatic turn for the worse. Their apartment was destroyed, and Dragica found herself unemployed. Tragically, her husband passed away shortly after the conflicts came to an end, and she had little choice but to move to Topusko with her two daughters, where they lived in a wooden house, tending sheep. "We lived in a small cowshed, without any contact with people, and with nothing to our name," she recalls. Over the years, her daughters grew up and moved to other parts of Croatia.

A number of years later, a local NGO from Petrinja heard about Dragica, and recommended her to the RHP Lead Institution in Croatia, the Central State Office for Reconstruction and Housing Care (CSORHC). In 2019, Dragica moved into an apartment which had been purchased by the RHP. "Thanks to this Programme and its good people, I have a new home with a beautiful view of the lake and surrounding nature," she says with a broad smile. Dragica hopes that many others will also find better lives, thanks to the Regional Housing Programme.