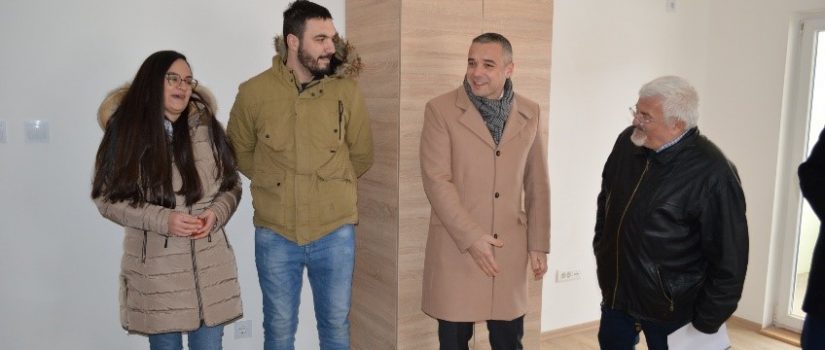 Smederevska Palanka and Arilje, Serbia, 12 January 2022 – For 23 refugee and displaced families in the municipalities of Smederevska Palanka and Arilje, Serbia, the New Year 2022 holiday period was particularly memorable, as they received the keys to new Regional Housing Programme (RHP) homes after many years of insecure living conditions.

The first event to take place was in Smederevska Palanka on 28 December 2021, where 15 families received new RHP apartments. The keys were handed over by Nikola Selaković, the Serbian Minister of Foreign Affairs; Dirk Lorenz, Head of the Political Section at the Delegation of the European Union to Serbia, and Luisa Ginepro, Acting Head of the UNHCR Representation in Serbia, among others.

The ceremony in Smedereska Palanka was followed by an event in Arilje on 12 January 2022, to mark the delivery of keys to a further eight RHP refugee families. The keys were delivered by Nemanja Starović, State Secretary at the Ministry of Foreign Affairs, and Vladimir Cucić, Serbian Commissioner for Refugees and Migration.

State Secretary Starović pointed to the importance of the day for the municipality of Arilje, and particularly for those who had finally received a roof over their heads after 20 or more years. "Today, we are one important step closer to achieving our strategic goal, which is that every refugee and displaced person finds a home, ˝ he said.

RHP beneficiary Nedeljka Dmitrović Radonjić agreed, and expressed the relief that she felt: "It's hard to describe the feeling when you have a new home at last," she said. "On behalf of all beneficiaries, many thanks to all who contributed to helping us. We hope for a better future under our new roof.˝

The funds for the construction of the apartments were provided from the RHP Fund. The largest Donor to the Fund is the European Union, followed by other key Donors the United States of America, Germany, Norway, Switzerland and Italy. The land and infrastructure for the buildings were provided by the municipalities of Smederevska Palanka and Arilje.