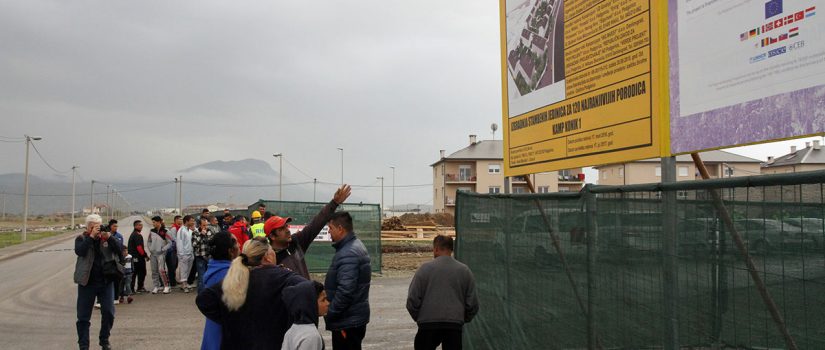 The Ministry of Labour and Social Welfare of Montenegro organized on 23 March 2016 a visit to the construction site in Konik, near Podgorica, where the construction works of 120 apartments have recently started.

The apartments will be inhabited by the most vulnerable Roma families from Camp Konik 1 who are holders of status of Internally Displaced Persons (IDPs) from Kosovo or holders of status of foreigner with permanent or temporary residence in Montenegro. The project should be finalised in the second half of 2017. Following the successful implementation of the construction works in Niksic, scheduled to be finalised in June this year to provide homes to 62 vulnerable families, this is the second RHP project implemented in Montenegro.

The total cost of the project in Konik is estimated at close to EUR 7 million, 90% of which should be covered from RHP Fund resources. The remaining 10% is financed by a national contribution from the Government of Montenegro. The RHP project in Camp Konik 1 is part of a wider strategy for closing of Camp Konik, which also includes the construction of 48 apartments financed by the EU through IPA funds. These apartments were constructed last year and the keys were delivered to selected beneficiaries in December 2015.

In addition to the Minister of Labour and Social Welfare, Ms Zorica Kovacevic, who welcomed the guests and future beneficiaries, the event was attended by Deputy Prime Minister Vujica Lazovic, Mayor of Podgorica Mr Slavoljub Stjepanovic, H.E. Mr Mitja Drobnic, Ambassador, Head of EU Delegation to Montenegro, H.E. Ms Margaret Ann Uyehara, Ambassador of the U.S.A. as well as H.E. Ms Gudrun Elisabeth Steinacker, Ambassador of Germany. The representatives of UNHCR and OSCE were also present at the site.

Minister Kovacevic expressed her gratitude to the donors for their understanding of the long-standing IDPs' problems in Montenegro and the region. She said that the whole country has become one big RHP construction site and that she was proud of what has been achieved in a year – the building in Niksic is finished, Konik has been inaugurated today and in a short while, another RHP construction site will become active in Pljevlja.

Mr Lazovic stated that this project is a further proof of the Government's dedication to integration processes of displaced persons in Montenegro.

The Head of the EU Delegation to Montenegro, Ambassador Mitja Drobnic, said that events like this one present the visible results of RHP achievements, helping most vulnerable people get proper housing and living conditions.

Ms Margaret Ann Uyehara, Ambassador of the U.S.A. to Montenegro, expressed her wish to see every family in Konik camp moving to a place they can call home, which is something all people need.