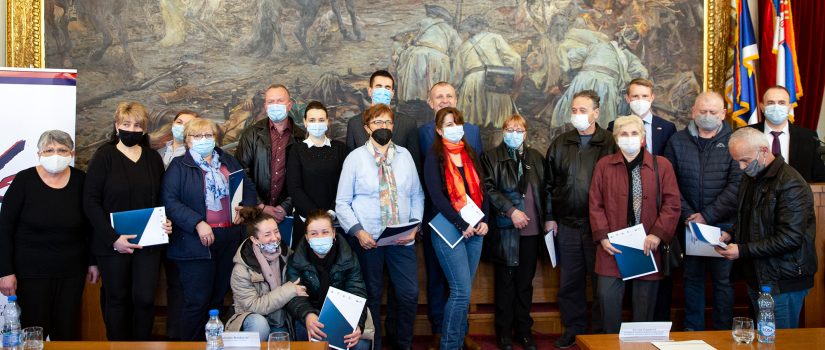 Sombor, Serbia, 19 February 2021 – Today was another landmark day for the Regional Housing Programme (RHP) in Serbia, as the city of Sombor celebrated the delivery of new homes to 13 most-vulnerable refugee families from the former Yugoslavia. The apartments were purchased under the RHP sub-project SRB7.

The event, which was hosted by the the Mayor of Sombor, Mr Antonio Ratković, and the Deputy Commissioner for Refugees and Migration of the Republic of Serbia, Ms Svetlana Velimirović, was attended by Ms Francesca Bonelli, UNHCR Country Representative; Mr Stefan Sandstad, Second Secretary at the Norwegian Embassy in Belgrade; Mr Jovan Lazarov, representative of the Public Sector Projects Implementation Unit Ltd., among others.

Underlining the importance of the RHP to the city of Sombor, Mayor Ratković also expressed thanks to all concerned: "I am immensely grateful to the Regional Housing Programme, which recognised the needs of Sombor, and enabled a further 13 families to receive safe, secure and comfortable homes," he said.

Deputy Commissioner Velimirović agreed, noting that the City of Sombor, in cooperation with the Serbian Commissariat for Refugees and Migration (KIRS) and RHP Donors, had worked hard to meet the needs of many of the refugees that had fled to the city during the conflicts in the 1990s. "I thank the Donors of this Programme, whose support allowed us to help these most-vulnerable people, who were left with nothing," she stated, pledging that the Commissariat would continue to strive to ensure that assistance was provided to those who needed it.

On behalf of the beneficiaries, Mr Milorad Radočaj, originally from Udbina, in the Lika region of Croatia, thanked all RHP stakeholders. Recalling his flight to Sombor and his subsequent years in insecure housing, Mr Radočaj expressed delight at having a home of his own at long last.