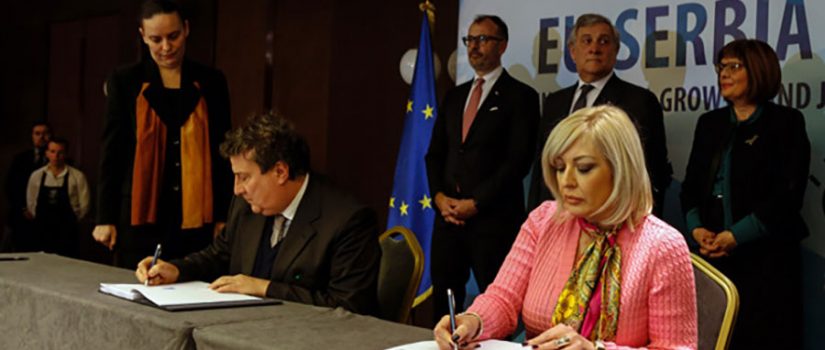 Belgrade, 31 January 2018 – Serbia's Minister of European Integration Jadranka Joksimovic and CEB's Vice Governor Carlo Monticelli signed today in Belgrade the grant agreement for the RHP sub-project "SRB8", aiming at providing durable housing solutions for altogether 938 most vulnerable refugee families, or an estimated 3 000 persons.

The signing ceremony was organized in the context of a conference on "Investments, growth and job creation", in the presence of Serbia's Prime Minister Ana Brnabic and the President of the European Parliament Antonio Tajani.

President Tajani said that the EU has provided over EUR 230 million to the Regional Housing Programme which, in Serbia alone, will allow over 6 000 most vulnerable refugee families access durable housing solutions. "This is what European solidarity is all about".

If you want to read the entire Speech at the Business Event: "Investment, growth and job creation" please click here: Speech of the President of the European Parliament Antonio Tajani at the Business Event in Belgrade: "Investment, growth and job creation

Today also marks the 13th anniversary of the Sarajevo Declaration in which the four Partner Countries agreed to resolve – together – the issues of refugees in the region. In the context of the 18th RHP Technical Committee and the 22nd RHP Regional Coordination Forum meetings which took place on 30 and 31 January in Belgrade, RHP stakeholders took stock of RHP's current status and implementation plans for 2018. With over 2 600 housing units delivered to date and over 3 000 more to be completed in 2018, it was concluded that RHP is indeed fulfilling the objective that was set 13 years ago.

As to the sub-project SRB8 for which the grant agreement was signed today, the main component foresees the construction of 358 apartments in 11 municipalities. In addition, it envisions the purchase of 300 village houses in 116 municipalities, the provision of 250 building material packages as well as the design-built of 30 pre-fabricated houses, throughout the country.

Also on 31 January, the Commissariat for Refugees and Migration of Serbia organized an event to sign the agreements with 10 Serbian municipalities for the design of 358 RHP-financed apartments, to be constructed in 2018/2019.