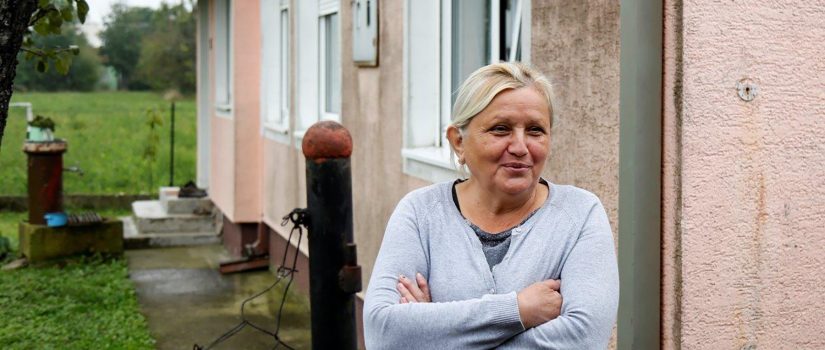 For RHP beneficiary Zorana Joknić, an unwavering focus on her family's welfare has sustained her throughout some difficult times. "

We've lived in substandard housing in several places,"

she says with a wry smile

. "I learned that as long as my children were healthy, it didn't matter where I lived

."

Zorana's displacement began in 1992, when she and her husband Vasilije fled their hometown of Zavidovići in central Bosnia and Herzegovina. Together with their two small children, they initially moved to Bor, in eastern Serbia, where Vasilije found employment as a school psychologist. Soon aftewards, he was transferred to work in elementary school in the town of Batočina, where the family settled.

Over the years, Zorana continued to take care of the family and manage the household. Meanwhile, Vasilije built up a solid professional reputation in Batočina and, with several years remaining until his retirement, he continues to enjoy his work with students. The couple's son now lives with his wife and two children in his wife's parents' home in Batočina, while their daughter and her family live abroad.

In 2017, the family learned that their application for assistance from the Regional Housing Programme had been successful, and in 2019, they were overjoyed to receive a village house. "Everything is so much easier now," Zorana says, with visible relief. "It's every person's dream to move into their own house. We no longer have have to worry about whether we will be able to pay the rent."

Although some renovations to the house are still needed, the Joknićs are delighted with their future home. "Our new house simply cannot compare to any of the places that we've lived in since 1992," concludes Zorana.