As a consequence of the armed conflicts in the 1990s, over three million people were displaced both within and beyond the borders of Bosnia and Herzegovina, Croatia, Montenegro and Serbia. Over the past two decades, sustained efforts on the part of the four affected states, as well as support from the international community, have enabled the majority of those affected to return home or find other durable solutions. However, despite these efforts, almost half a million people remain displaced throughout the region.

The process of selecting beneficiaries is a crucial element of the RHP. Its purpose is to ensure that RHP housing units are provided to those refugees and IDPs that are most vulnerable and most in need. In early 2016, close to 2 000 beneficiary families had already been selected throughout the four countries. Potential beneficiaries are informed about the RHP thanks to the wide information campaigns conducted by the Partner Countries since March 2013, in close coordination with UNHCR and OSCE
Beneficiary stories
The stories of RHP beneficiaries below aim at capturing the reality of refugee families who have lived in tents and containers, moved from one relative to another, or managed to build at least some kind of a roof over their heads, during the past two decades. Some of the pictures are kindly provided by the UNHCR.
BOSNIA AND HERZEGOVINA
Bego Parganlija, Gorazde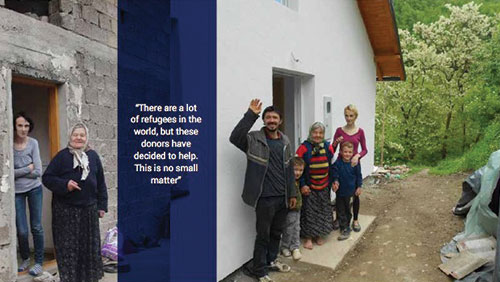 During the war of 1992, Mr Bego Parganlija, then a teenager, had to leave with his family their house in the village Kazagici near Gorazde. For some time, the family lived in very harsh conditions in a basement. The dream of returning to his house in Kazagici gave solace to Bego during the wartime. Family Parganlija returned to their home in Kazagici in 1996. The house was burned down, but they had nowhere else to live. Mr Parganlija installed a door and put a plaque on the roof. Even though the house had leaks and was not connected to water or electricity network, this was his home. "My house is the best, whatever that is" he used to say.
Meanwhile, Mr Parganlija got married and became a father of two. Together with Mr Parganlija's mother and brother, this six-member family lived in one room. To endure the cold Bosnian winters, they put blankets on the windows to protect themselves. The turning point in their lives was when they were contacted by the Ministry of Human Rights and Refugees of Bosnia and Herzegovina in 2015 to receive support to reconstruct their house. Furthermore, family Parganlija as a selected beneficiary of the RHP, also got support from the U.S. funded NGO Catholic Relief Services (CRS), which awarded them a cultivator, as assistance for sustainable return. Besides the new house and a cultivator, family Parganlija now has a cow and chickens. They also planted some vegetables and fruits and are considering to expand production to picking and drying herbs, making jam of acacia and honey of dandelion. Family Parganlija expresses its gratitude to all those who helped them: the RHP Fund Donors, particularly the European Union and the United States, the Ministry of Human Rights and Refugees of Bosnia and Herzegovina, the Federation Ministry of Displaced Persons and Refugees, and the Gorazde Municipality. Mr Parganlija said: "There are a lot of refugees in the world, but these donors have decided to help. This is no small matter. They once again showed that they are great friends of Bosnia and Herzegovina and the whole Bosnian nation. The donation that I have received to get a new house has changed my life. Even the sickness of members of my family somehow is tolerable in a new house. What can I say, I got the house, the most beautiful in the world". Family Parganlija's reconstructed home now has access to water supply. Connection to the electricity grid is in progress, pending the efforts of the municipality of Gorazde.
REPUBLIC OF CROATIA
Sehrizada Samouk, Knin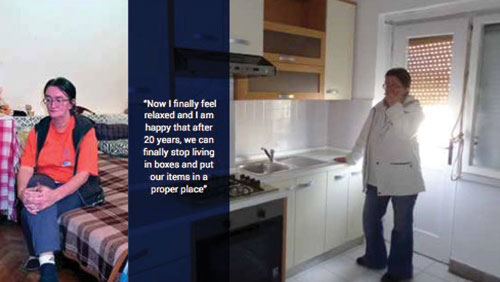 Ms Sehrizada Samouk is a native of Licko Petrovo selo, on Croatia's border with Bosnia and Herzegovina. The turmoil of war forced her and her daughter to flee Croatia in 1995, eventually finding refuge in Serbia. After spending nine years in a collective centre in Serbia, Ms Samouk and her daughter returned to Croatia with UNHCR's assistance in 2004. Unable to move back in their pre-war, socially-owned, home to which they had lost occupancy right, they were accommodated in the Strmica collective centre near Knin where they have been living ever since, together with other minority returnees, refugees and other displaced persons.
In 2010, the Samouks were offered accommodation in Ervenik, a war-affected and isolated municipality with limited connections to the nearest urban centre. As it offered very limited professional prospects for a young woman such as Ms Samouk's daughter who is the main bread earner, they had to decline the offer. After a long bureaucratic struggle, in 2011, Ms Samouk and her daughter finally acquired Croatian citizenship; however, their economic situation is still difficult today. Being of the minority Bosniak ethnicity, Sehrizada and her daughter had to survive in a dangerous and unwelcoming area during the conflict years. The traumatic experiences of fleeing and seeking refuge for 20 years left heavy marks on them. Nevertheless, they maintained their hope to finally live in a decent environment. Their dream of settling in their own house came true in March 2015. Thanks to the RHP sub-project concerning the purchase of flats for 101 beneficiary households throughout Croatia, the Samouks received a 49 m2 apartment in Knin. With some of their limited financial resources and the support of UNHCR, they managed to ensure basic furniture and household items and moved in. "Now I finally feel relaxed and I am happy that after 20 years, we can finally stop living in boxes and put our items in a proper place" Ms Samouk says. Her daughter, now 30 years old, is occasionally employed outside of Knin and Ms Samouk lives with limited means thanks to the support from social welfare and a friend who lives in a nearby village. "Now with our home, we do not feel refugees anymore and can continue living a normal life. My only wish now is that my daughter would find employment here in Knin so she could start planning to establish her own family".
MONTENEGRO
Draga Vujovic, Niksic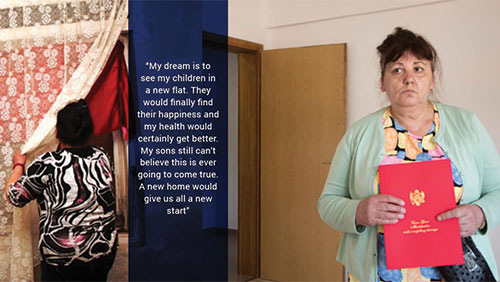 Draga Vujovic was born in 1965 in Mostar, Bosnia and Herzegovina. She lived there until 1992, when, due to the war, she was forced to leave her home together with her family and seek safety in Niksic, Montenegro. This extremely harsh period had implications on her health from which Ms Vujovic never completely recovered. Ms Vujovic is a mother of two sons in their mid-20s and early 30s who are both employed sporadically. However, they are well integrated in the community and they are both passionate cyclists and members of a local cycling club. Almost 25 years after finding refuge in Montenegro, Ms Vujovic and her family finally received keys to their new apartment in an RHP-financed building in Niksic.
The family was renting a shabby and mouldy apartment, which did not meet the basic standards of sanitation. They were struggling every day to make ends meet and often defaulted on utility bills. Yet, family Vujovic remained positive and a new home "means a world" to them, as they speak with one voice. Both Ms Vujovic and her sons held the status of displaced persons in Montenegro until they acquired the status of foreigner, which made them eligible to apply for the RHP. They submitted an application for the first project approved by the RHP Fund Assembly of Donors in favour of Montenegro, namely the construction of 62 apartments in Niksic. "My dream is to see my children in a new flat. They would finally find their happiness and my health would certainly get better. My sons still can't believe this is ever going to come true. A new home would give us all a new start", said Ms Vujovic. This dream has now come true and she and her family have been able to settle into their new home in Niksic.
REPUBLIC OF SERBIA
Ilija Bogovac, Indjija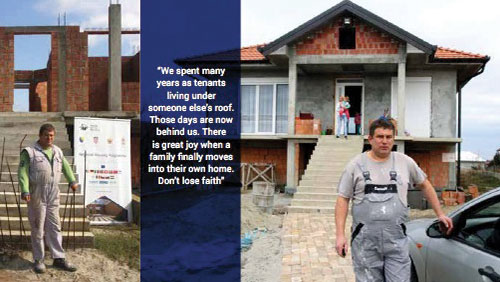 Family Bogovac received a package of building materials in October 2015 under the first RHP sub-project implemented in Serbia. This 4-member family is one of the 129 families who received packages of building materials in 2015, which enabled them to complete the construction of their houses. Today, family Bogovac finally has a roof over their heads. When the family fled from the village of Koljane in Croatia in 1995, they arrived in Indjija and initially moved in to live with their relatives as there were no other options. Over time, they became tenants and managed to earn enough money to acquire a plot of land and begin the construction of a house. Unfortunately, due to lack of funds they were unable to finish their home.
When the family heard about the RHP, they immediately submitted their application for housing assistance. Mr Bogovac advises other refugees to not lose their faith and apply for assistance. "We spent many years as tenants living under someone else's roof. Those days are now behind us. There is great joy when a family finally moves into their own home. Don't lose faith". "The works were conducted rapidly given that within my family, there are many construction workers and we were able to complete a lot of work ourselves. We received the building materials needed to complete the foundation, roof, electric installations etc. We are happy that we have finally moved into our own house. In the future, our parents will come and live with us." Mr Bogovac is currently employed as a plasterer, which is the main source of income for the family.
Categories of Beneficiaries Eligible for Support
The following priority categories have been identified by the Partner Countries, together with the UNHCR:
I.
All 1991-1995 refugees, regardless of their status, who are residents of collective centres or other forms of collective accommodations, either formal or informal.
IV.
Displaced persons accommodated in collective centres and private accommodations in Croatia.
II.
All 1991-1995 vulnerable refugees accommodated privately and all former occupancy right holders without a durable solution in their country of origin or reception country. For the purpose of the Regional Housing Programme, the vulnerability criteria applied by UNHCR in countries in the region are also to be applied here.
V.
Vulnerable displaced persons outside collective centres in Bosnia and Herzegovina.
III.
All vulnerable returnees to Bosnia and Herzegovina and Croatia and all vulnerable returnees who have already returned to Croatia but who do not have a durable solution either in the country of origin or in the reception country.
VI.
Vulnerable persons displaced in Montenegro in 1999. This was especially agreed by the participating countries given that the Regional Housing Programme in other countries deals only with 1991-1995 refugees.